Sawyer_Quintessence_The Sequel by Serena Akeroyd
Author:Serena Akeroyd [Akeroyd, Serena] , Date: July 12, 2022 ,Views: 7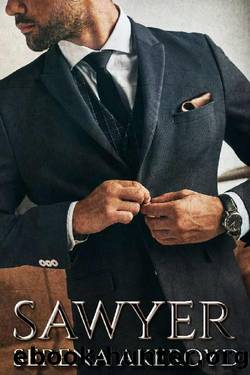 Author:Serena Akeroyd [Akeroyd, Serena]
Language: eng
Format: epub
Published: 2018-11-05T00:00:00+00:00



"What is it?"
"Now, lad, there's no need to be panicking."
Sawyer lifted his head at his mother's quiet words.
Quiet because Devon was at the other end of the room working.
He recognized that volume. It was a 'let's not freak Devon out' pitch, not a 'let's not worry Sawyer' pitch.
Scowling at his mother, he scrubbed his hand over his head as he demanded, "What is it?"
She winced, her shock of red hair was as bright against her pale skin as it had been when he was a boy. The only difference being the many lines that now creased her face. For all that, she was still the bonny lass he remembered, but the worry on her features made his own nerves start to fray. "Andrei just called."
Unable to discern why that would have her as white as a sheet, he realized Andrei calling heralded something else. Something bad.
Sawyer, only by the grace of God, didn't jump up and slam his chair back, as, Cinta's earlier prediction coming true, panic filled him. "What's wrong?" he insisted, trying to control his tone even as he glanced over at Devon to make sure his brother from another mother was still focused on work.
"Sascha called him because she—"
"Sascha called Andrei?" He scowled at her. "Well, what's wrong with that, ma?"
She scowled back at him. "If you'd let me finish, son, I'd explain. She's had a fall." She whispered the word. "And someone stole her purse after she fell. She couldn't get in touch with you because she couldn't remember anyone's numbers." Jacinta grimaced, her cheeks flushing as bright as her hair. "It happened six hours ago. I was starting to get worried, but you and Devon were so busy…" She shrugged her shoulders. "I thought you knew she'd be out a long time. I thought she'd told you about it."
For a second, he couldn't process what she'd said. Then, when he could, he jumped to his feet, agitation making it impossible for him to sit down.
His woman had fallen six hours ago and they'd only just now found out?
Worse still, she'd had to contact the house in Kensington rather than them because she didn't know their numbers?
As horrified as he was, blackness seemed to bleed over everything else. She'd fallen, and his mother was looking like she could burst into tears at any moment.
His throat felt too clogged full of emotions as he turned to Devon. Not only was his best friend not going to take this well, he knew there was more.
More.
His mouth fucking trembled as he turned back to Cinta. "The baby?" he asked her quietly, their eyes locking.
She shook her head. "They…" She swallowed, the noise audible in the quietness of the study. "No."
Agony whipped through him like a hurricane. It left devastation in its wake, but the shame and the rage and the fear all coalesced because, as bad as he was feeling, it was nothing to what was about to happen to Devon.
And then, he felt angrier because what about his
Download


Copyright Disclaimer:
This site does not store any files on its server. We only index and link to content provided by other sites. Please contact the content providers to delete copyright contents if any and email us, we'll remove relevant links or contents immediately.