Over Time by Kyell Gold
Author:Kyell Gold [Gold, Kyell] , Date: May 21, 2017 ,Views: 1201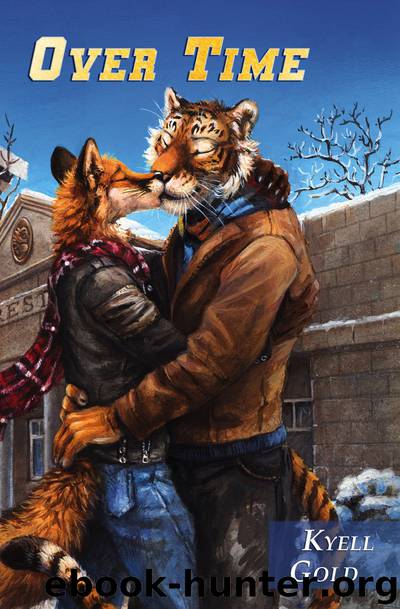 Author:Kyell Gold [Gold, Kyell]
Language: eng
Format: epub
ISBN: 978-0-9972794-0-5
Publisher: 24 Carat Words



Early Tuesday morning we call Clara and give her a firm list of our top three houses and she promises to get more info for us. I've got an application from the apartment complex I liked in case I change my mind, but the prospect of the house is more appealing, despite (because of?) the weight of the relationship it carries with it.
In the city, we spend an hour shopping and I get Dev a half-dozen really nice shirts, plus some pants and ties while we're at it. Rather, I team up with the salespeople in three different stores to pick out some clothes and Dev buys them. Same difference, right?
And then we return the car and deal with airport hassle and this time I upgrade our tickets to first class at the counter so that Dev won't complain all the way home. "But we should watch our expenses if we're going to buy a house," I say.
He frowns. "It was what, three thousand? What's the big deal?"
It's not worth arguing about. I'll let my father talk to him this weekend or whenever Father's coming into town. And when we're sitting in first class, stretching out, and I'm plugging my laptop into the power port, enjoying a complimentary wine, well, it's hard to argue with how much happier he is. Three thousand, to me, is an immense amount of money. It's three months rent (or was; in Yerba it'd more likely be two, or one and a half), it's half a dozen round trip plane trips, all squandered on one flight so that Dev can stretch his legs out.
But it's his money, not mine, and he's earned it. So who am I to tell him how to spend it?
When we land in Chevali just after noon, there's a message from Damian asking Dev to be at the Firebirds offices at 3 pm for Fisher's retirement, so we have time to stop by the apartment.
There we collect all our mail, and there are a couple things for me, including something from the Superior Court of Boliat. "Oops," I say, opening it with a sinking feeling. If it's a summons that arrived last week and I missed it, I could be in actual serious trouble.
But no, it's only a notification that my presence isn't required. "What's the matter?" Dev asks, sifting through credit card pre-approved applications and dropping them in the trash.
"Oh, nothing, it turns out. Remember that wolf I got in the fight with in Boliat?"
He growls. I smile and hold up the letter. "It says here that the judge has issued a ruling and that neither of us is required to appear. He filed an assault charge against me, but I'm not guilty of that."
"Good."
"And he's found guilty of assault…sixty hours of community service, no prison time."
Dev makes another growling noise. I skim the rest of the document. Nothing about a hate crime. Maybe that's not a law in Boliat, but I was pretty sure I made it clear he assaulted me because I'm gay.
Download


Copyright Disclaimer:
This site does not store any files on its server. We only index and link to content provided by other sites. Please contact the content providers to delete copyright contents if any and email us, we'll remove relevant links or contents immediately.