Only For You by Rulon Genna
Author:Rulon, Genna [Rulon, Genna] , Date: August 17, 2017 ,Views: 3966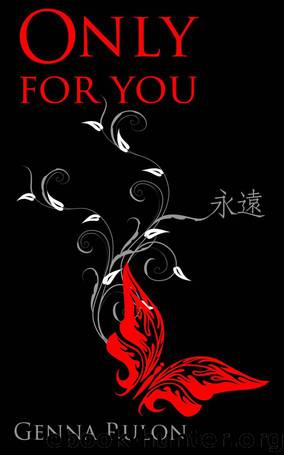 Author:Rulon, Genna [Rulon, Genna]
Language: eng
Format: epub
Publisher: Genna Rulon
Published: 2013-09-24T07:00:00+00:00



I arrived at school Monday morning and walked straight into Hunter's waiting arms. He held me close, rubbing my back with one hand and cupping the back of my head with his other. My arms wrapped around his waist in a vice grip as he rocked me gently, occasionally kissing my head while breathing me in. I burrowed into his chest and never wanted to come out, this was where I belonged. I soaked in the feel of Hunter for as long as possible.
"I missed you," I whispered
"I missed you too," Hunter replied with his cheek resting on the top of my head. "I almost came over last night to reassure myself you were okay."
"Why didn't you? You've never actually been inside our apartment."
"I knew you and Sam were rehashing; did she decide what she is going to do about Robbie?"
"She's standing by her man, giving him another chance." I shrugged. "I think she is making justifications for some of his character flaws, but no one is perfect. She loves him."
"He's not a bad guy. I just think she needs more than he can give her. She is so strong and protective. Robbie's…not."
"Maybe they complement each other that way. Balance out each other's strengths and weaknesses."
"Maybe," he didn't sound convinced but dropped it and released me.
As I stepped back and looked at him, I saw how weary and ramshackled he appeared.
"Rough night?"
"Rough couple of nights. I was worried about you, and I have a lot going on at work. I haven't slept much in the last few days. I'll catch up soon, I hope."
"Anything I can do?"
"Just take care of yourself and avoid Heath, along with your other admirers. That will help alleviate my worry."
"I will, but that's for my benefit, to keep me safe. Anything I can to help you?"
"Just be you, Everleigh. That's all I need."
He handed me the coffee and took my free hand, lifting it to his lips and kissing the top before leading us to class. Another first.
During class, Sam texted to cancel our standing lunch so she and Robbie could have time to talk. Hunter had a commitment too, so I texted Linc to see if he was free and we decided to meet. I was glad to fulfill my promised lunch date and we would be in a public place, which would appease Hunter, if I intended to tell him—which I didn't. Linc greeted me with a hug and a kiss on my cheek.
"Hey girlie! We finally do lunch."
"Better late than never, it's good to see you. How are you?"
"I'm well. Enduring the final weeks of my last semester of undergrad, like everyone. How about you?"
"I'm hanging in there. Feeling the stress of the murder along with every other woman on campus. I'm not sure if you men can appreciate how draining it's to be constantly on guard—feeling like you're perpetually in danger. To some extent women have to live with the worry in our consciousness at all times, but with the attacks, we have to be incessantly vigilant.
Download


Copyright Disclaimer:
This site does not store any files on its server. We only index and link to content provided by other sites. Please contact the content providers to delete copyright contents if any and email us, we'll remove relevant links or contents immediately.