Once Upon a Dyke: New Exploits of Fairy Tale Lesbians by Karin Kallmaker & Therese Szymanski & Julia Watts & Barbara Johnson
Author:Karin Kallmaker & Therese Szymanski & Julia Watts & Barbara Johnson [Kallmaker, Karin & Szymanski, Therese & Watts, Julia & Johnson, Barbara] , Date: October 11, 2014 ,Views: 972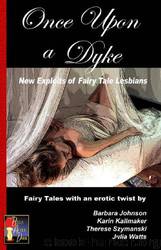 Author:Karin Kallmaker & Therese Szymanski & Julia Watts & Barbara Johnson [Kallmaker, Karin & Szymanski, Therese & Watts, Julia & Johnson, Barbara]
Language: eng
Format: epub
Tags: Fiction, Lesbian, Contemporary, Romance
ISBN: 9781931513715
Google: XHIiAAAACAAJ
Amazon: 1931513716
Publisher: Bella Books
Published: 2004-06-02T00:00:00+00:00



Chapter 4
Lisette and Truda were all aflutter when Charlotte returned to the house. They did not even berate her for having been gone the whole afternoon. And Gudrun only gave her a cursory glance when she sidled into the kitchen to help prepare the evening's repast. Elke took Charlotte aside. "They have received an invitation from the palace."
"The palace? How do the stepdaughters of a mere baron warrant an invitation to the palace?"
Elke furiously peeled potatoes, as she was wont to do when excited. "The prince has returned home from abroad and is in need of a wife. The king and queen are holding a grand masquerade ball in one fortnight, and have invited the daughters of anyone titled." She gave a disdainful sniff. "Not that anyone would mistake those two bad-mannered females for nobility."
Charlotte giggled. It was true that her two stepsisters had turned out to be inelegant young women, lacking in even the most basic of social skills. Their months of lessons with the old woman had not given them brains. They could not hold an intelligent conversation, and though they dressed elegantly, their lack of grace became apparent when they moved. They could not sing or dance with any felicity, or even paint a decent watercolor. Gudrun had held a couple of cotillions to introduce them to eligible males, but their raucous laughter and coarse manners were enough to dismay even the most desperate of men. Try as she might, she could not believe any man would want to touch either of them with the love and tenderness she had experienced with Mina.
She paused in her washing of the turnips. "Then I too am invited to the ball."
Elke stared at her. "Oh mistress Charlotte, you could not go to such a ball, as much as you deserve it. They would never let you go, and what would you wear?"
"I have a dress of my mother's. Gudrun never found that one." Charlotte's eyes misted with tears. "You remember the dress, don't you Elke? All silver and white voile. The lace overskirt was covered with seed pearls. She wore it for my seventh birthday."
"Oh yes. Your mother looked so beautiful."
"I will wear the dress and go to the ball too."
Laughter startled them, and then Gudrun's raspy voice mocked them. "I can just see it now. You, a mere servant girl, introduced to the prince."
"I am not a servant, stepmother. I am my father's daughter, and I have as much right to be there as Lisette and Truda."
Gudrun looked at her. As usual, she made Charlotte feel like an insect under scrutiny. "Very well then," Gudrun said. "You may go if your chores are finished and you do indeed have such a dress. Of course, you'll need all the accessories too. Slippers. You can't dance in clogs." With that, she swept out of the room.
Charlotte looked at Elke in disbelief. That had been entirely too easy. Her stepmother was never that agreeable. It made Charlotte suspicious. "I don't trust her."
"Just as well that you don't.
Download


Copyright Disclaimer:
This site does not store any files on its server. We only index and link to content provided by other sites. Please contact the content providers to delete copyright contents if any and email us, we'll remove relevant links or contents immediately.