Fallocaust by Quil Carter
Author:Quil Carter [Carter, Quil] , Date: January 13, 2016 ,Views: 1093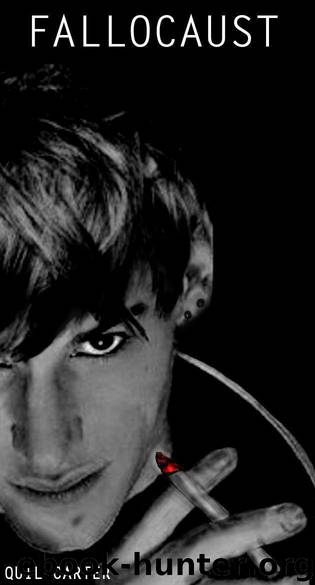 Author:Quil Carter [Carter, Quil]
Language: eng
Format: epub
Published: 2014-02-14T08:00:00+00:00



Chapter 28
Reaver
"Oh my god... they're naked!"
"No! Really?"
"Look!"
Jesus fucking christ...
I heard Greyson give a holler and then Leo joined in.
"What's going on?" Killian murmured, his eyes opened. He had his head laying on my chest, his body turned to the side half on mine. I was on my back, one arm under his head the other behind my own.
I shifted away from him and shot a cold look to the living room. I watched as Greyson dug out a bottle of wine from my cupboard and popped the cork with his finger. They continued their cheering.
I got up and slammed my bedroom door shut, howls of laughter erupted from the living room. Killian was sitting up, looking at me sleepily. "You need to take their key away."
"Don't worry I will." I kneeled onto the bed and kissed him. Trying to best to ignore the talking and laughing in my living room. I ran my hand up his smooth body. I felt a twinge, I wanted to take him again.
My night vision kicked in, and I could see Killian's eyes locked on the door. He pulled away when my hand brushed over his dick. "We can't now! We have to see what they want."
"Screw em," I growled, but he pulled himself away. I gave out a sigh and got up.
He giggled behind me and a moment later he got up too even though it was pitch black in my room.
I handed him some clean clothes and got some myself and the both of us made ourselves decent. As I put my socks on my eyes caught some dark spots on the bed. I hadn't even noticed I had torn him, though it wasn't that much blood. I did lose control a few times. I threw my blanket over the spot so the clowns in my living room wouldn't see. I know they would have a joke for that.
When we were changed I opened my bedroom door. Squinting my eyes from the lamp light, I saw both Leo and Greyson holding wine cups. When they saw us they cheered again. Killian went as red as a tomato.
"Our boy is finally a man!" Greyson handed me the wine, I glared at him. "I didn't think you'd ever do it! He's growing up."
Leo gave his wine glass to an extremely embarrassed Killian. He looked like he wanted to crawl into the corner and die. "We can only hope it will make Reaver more tolerable. Maybe in the end all he needed was to get laid."
"Alright, get out of my house." I opened the tank hatch and stepped back with my arms crossed. "You had your fun, get out."
"We should organize the fireworks celebration." Leo looked over at Greyson his smile was a mile long. They were enjoying this way too much.
Greyson grinned, he grabbed the glass of wine he had just handed me and downed half of it. He slapped me on the back, I cringed. The chain marks still hurt.
"We're just razzing you boy. Come to our house tonight for bbq, say six.
Download


Copyright Disclaimer:
This site does not store any files on its server. We only index and link to content provided by other sites. Please contact the content providers to delete copyright contents if any and email us, we'll remove relevant links or contents immediately.