Scorpion (Memory of Scorpions, #1) by Aleksandr Voinov
Author:Aleksandr Voinov , Date: March 25, 2014 ,Views: 1023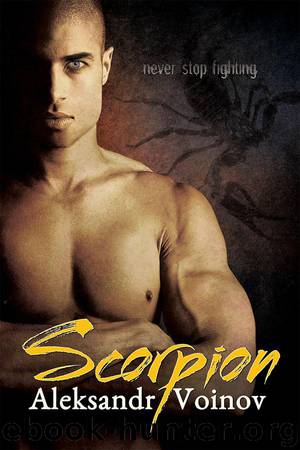 Author:Aleksandr Voinov
Language: eng
Format: mobi
Publisher: Riptide Publishing
Published: 2013-04-14T22:00:00+00:00



Just two days later, Steel told them to pack whatever they needed, and that they would most likely not return soon. Kendras didn't own much, and what he had fit into a pair of saddlebags. Widow traveled light too. Stick seemed to own more than either of them, with Steel a second. Those two shared a mule to carry additional things.
Vistar An Grekaran had a mule to himself. Decked out in bright clothes that were richly embroidered in silver, he could have been a young noble sent traveling to explore the world. Few could doubt the ornate dagger at his side was just an adornment, surrounded as he was by tough-looking bodyguards.
And Vistar certainly acted that part. The youth ordered them around and found that Stick was the most patient of his minders. Stick, by inclination calm and quiet, followed Vistar's whims, while Kendras professed injury, and Steel responded to requests with a "Did you really just ask that of me?" look. Widow had fallen deaf to anything said by any noble, whether future king or not.
Whenever something didn't immediately go as desired, Vistar would take a deep, exasperated breath and begin, "At home . . ." to continue with a detailed account of just how his wishes were usually heeded—immediately, without reservation, and without any stupid questions.
A man proves his worth not by that of his father or mother.
Once, a noble had told the officer to treat him with more respect because of his "worthy" family. Normally, the officer was more diplomatic than this; Kendras remembered that the officer had said it with a smile, like the outrageous concept it was, truly. Men had been whipped and hanged for less insolence.
When they reached the Kanenti, they turned west toward the temple city. Dalman stood guard on the cliffs in the distance. In old times, even before the Empire of Shara, the city of Dalman had served as a fortress into which the priests fled when they were attacked. The temple complex had once been just Dalman's harbor and trading outpost. Now Dalman had grown large and the new harbor occupied an area near the temple city.
The tripartite structure of the city served it well, however. Any army that attacked merely one part of the city found its back and flanks wide open to counterattacks from the others.
Kendras had never set foot into the temple city. As they waited in line with pilgrims and traders bringing their wares to the temple, Steel produced a signed letter from the priests. The temple guards at the gate examined it, then bid them to wait.
More guards appeared and escorted them inside. Blue banners hung from the beams of the houses everywhere, flowing in the breeze like waterfalls. The cobbles were scrubbed clean by an army of devotees, and, strikingly, there was not a single beggar visible. Temple guards patrolled the streets, and everybody who was not a guard or a pilgrim was a priest. The pilgrims came with flowers in their hair and seashell necklaces or ornaments, and seemed to do nothing but dance and sing.
Download


Copyright Disclaimer:
This site does not store any files on its server. We only index and link to content provided by other sites. Please contact the content providers to delete copyright contents if any and email us, we'll remove relevant links or contents immediately.