Motorcycle Man by Kristen Ashley
Author:Kristen Ashley , Date: March 26, 2014 ,Views: 1460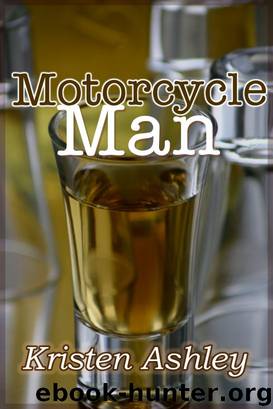 Author:Kristen Ashley
Language: eng
Format: epub, mobi
Tags: romance, contemporary romance
Publisher: Kristen Ashley



Chapter Nineteen
Except Better
"Oh lordy, stop talking."
This demand came from Elvira and when it did, the table full of women at Club burst out laughing. This was because I'd just explained precisely Tack's ability to give pleasure. And I did this because I was highly inebriated.
It was Wednesday night and we were at Club.
The last two days I'd spent in the office at Ride's garage dealing with work and man drama. As far as the work was concerned, it wasn't like I was gone two days. It was like I was gone two weeks.
And, kid you not, men were crazier than women. Each mechanic and body guy's life was like a soap opera and they did not leave it at home. Over donuts and coffee, they were in my office telling me about it. Breaking up with women, making up with them, juggling two at a time (or three and, in one case, four), exes entering the picture, hysterical pregnancies, real pregnancies, STD scares, women who didn't "get them", skanky 'ho's they fell for and who stole from them, financial troubles, car troubles (yes, mechanics had car troubles!), family troubles.
It wore me out just listening to it. Then again, I'd been listening to it for two weeks, they'd broken me in early so I figured one day, I'd get used to it.
And going to Tack's house after work the night before was no less exhausting.
The good thing was, riding on the back of Tack's bike with Tack was phenomenal. I'd ridden on the back of a bike before but I'd never done it with a man who I could press close to and hold tight.
It. Was. Awesome.
The other good thing was that Tack had a fantastic house. He lived on a quiet, secluded lot up in the foothills, his house built into the mountains and nearly the whole front was a deck that had spectacular views. You walked into an open entryway that fed to the left into a big comfortable living room that jutted out past the deck. Straight off the entryway was a big kitchen with views to the deck and beyond. The house was long, three bedrooms (one Tabby's, one an office and one Tack's master that had its own bath) and bathroom all off one side down a hall. The other side had more windows with Tack's spectacular views.
What surprised me was that it didn't scream Biker! Not that I would know what that was, just that it didn't look rough and tumble and lived in and mostly filthy like the Chaos Compound. Just lived in. It wasn't tidy but it was relatively clean and the kitchen was clearly used but immaculate. The furniture in the living room had been chosen for comfort only, wide seats, slouchy cushions, lots of throws and toss pillows, all inviting you to take a load off.
Although it didn't scream Biker! it was decorated in "The Biker Experience". A framed black and white picture of what Tabby told me was Sturgis, South Dakota circa some other time when there were ox and horses in the dirt streets.
Download


Copyright Disclaimer:
This site does not store any files on its server. We only index and link to content provided by other sites. Please contact the content providers to delete copyright contents if any and email us, we'll remove relevant links or contents immediately.