Most Valuable Playboy by Lauren Blakely
Author:Lauren Blakely [Blakely, Lauren] , Date: September 5, 2017 ,Views: 3614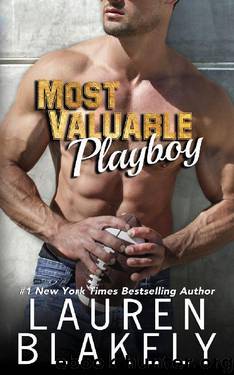 Author:Lauren Blakely [Blakely, Lauren]
Language: eng
Format: epub
Publisher: Lauren Blakely Books
Published: 2017-09-01T07:00:00+00:00



Holly: You always have . . .
Rick chews the pink gum, spits it out, and brushes his teeth on the sidelines. Then, the defense holds off Dallas in the third quarter, but their line nearly kills me. I manage a few handoffs and a couple of short passes, but we don't push past the fifty-yard line.
Dallas gets possession, and they march downfield with precision. My chest tightens, and I pace along the sidelines, eager to get back in because they seem on the cusp of something big. But we hold them to a field goal chance, and then something beautiful happens. They miss it, the ball going wide past the goalposts. That sends a bolt of energy into the crowd.
We take the field, pumped. I do my job, like I've done since I was five. Since I was ten. Since high school. Since college. Since the start of the season. Drive downfield, throwing pass after pass from the pocket, my wall of Mack Trucks protecting me.
We reach the twenty, and a short pass to Jones sends him running into the end zone to pad our lead. A lead we never look back on.
When the game ends, the crowd bursts into cheers. Horns blare. Whistles sound. Drums pound. We're one more game away from the playoffs. So close I can taste it.
On the field, a local sports reporter thrusts a mic at me, and I give my best "We just played all four quarters and stayed focused" kind of lines. When she walks off to find another player, my eyes drift to the stands, scanning, searching. They land on faces I know well, and the buzzing in my chest is like a note held long on a guitar. It shifts to a faster tempo when I see Violet. She's waving like a crazy fool, her arms swinging wildly over her head, her chestnut hair blowing in the breeze. When she realizes she's caught my attention, she freezes, then jumps up and down in excitement. Something is happening. Something is building.
I follow my instincts, and they tell me to run over to the sides, find a security guy, and ask him to bring her onto the field. A minute later, she's escorted to me. I wrap her up in a hug and lift her high.
"You're all sweaty and dirty," she says, laughing.
"That's because I play hard."
"You sure do."
"Did you enjoy the game?"
"Loved it."
"Yeah?"
A smile curves her lips. "Every single second."
The noise in the stadium vibrates in my chest, a mixture of cheers, chatter, and fifty thousand feet pounding to the exits. But this conversation feels entirely private. Just for us.
So does the kiss she gives me next. She brings her mouth to mine, dusts her lips across me, and steals the breath from my lungs. I'm vaguely aware of the pop and flash of cameras capturing this moment. It doesn't last long, but the kiss feels like it's for me, not the lens.
And maybe it's the way my heart hammers after the
Download


Copyright Disclaimer:
This site does not store any files on its server. We only index and link to content provided by other sites. Please contact the content providers to delete copyright contents if any and email us, we'll remove relevant links or contents immediately.