Love and Gravity by Samantha Sotto
Author:Samantha Sotto , Date: August 11, 2017 ,Views: 2102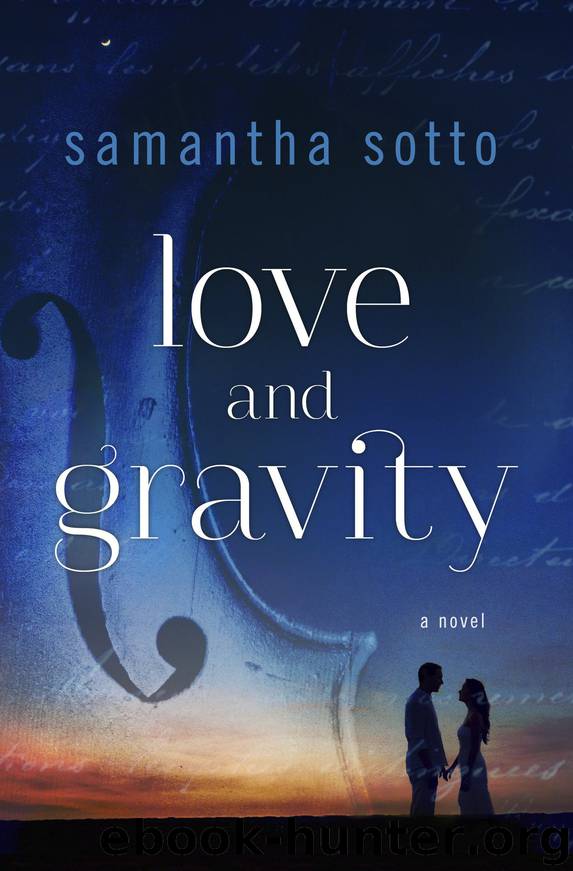 Author:Samantha Sotto
Language: eng
Format: epub, azw3
Publisher: Random House Publishing Group
Published: 2017-02-07T05:00:00+00:00



Love and dignity cannot share the same abode.
—OVID
Los Angeles
Present Day
Andrea is twenty-two.
Cheap red wine splattered along the side of the overstuffed trash can. Andrea shoved her hand through the bin's plastic flap and pushed down an empty Pinot bottle and pizza box to make more room. She gathered the last of the empty lipstick-stained cups from her Ikea dining table and tossed them in the trash. She wiped the water rings and pizza crumbs off the frosted glass tabletop and set her birthday cake on it. Like the impromptu dinner party she had thrown for some of the staff from the office, the dark chocolate fudge cake made her new apartment feel less empty.
Upgrading to the one-bedroom unit had seemed like a good idea when she had been promoted to account manager, but she had since realized that moving had been a mistake. A larger apartment meant only that she had more walls to stare at without glowing cracks.
Andrea headed to the kitchen to hunt for matches to light her striped candles. Her birthday present from her father and Sylvia sat on the faux-granite counter next to the new Moleskine journal from her mother. This year, Johann Sebastian Bach was mint green and matched the Monet-inspired chiffon scarf Sylvia had picked out. Andrea had never been happier to see fresh, blank pages. Its predecessor was nearly stained from cover to cover with all the guilt, hurt, and helplessness that flowed out of her whenever she thought about Nate. On the rest of its pages, Andrea wrote, scratched out, and rewrote drafts of the letter she was going to ask Mr. Westin to deliver to Isaac. She paused her match hunt to review the latest draft she had written on the first page of this year's journal.
Dear Isaac,
It feels beyond strange to be on this end of the conversation. I've bottled up what I'm about to tell you for so long that I'm afraid that when it gushes out over this page all at once, it will make no sense. While we shared more than I could have hoped for or imagined in the month the crack allowed us to see each other every night, there was one thing I could not let my little paper planes carry. It was too heavy for their wings. I cannot let you spend another second thinking of me or writing to me without knowing who I really am.
More than my wall breaks open whenever the crack appears. I split in two. One half is the part that dies a little every time the wall closes with you behind it. The other is the part that remains devoted to a boy who made school less lonely. He no longer speaks to me, but this has not diminished how I feel about him. What he was to me is frozen in place like a shard. I do not know if it will ever melt away or if I want it to. It's the punishment I deserve for lying to him all these years.
Download


Copyright Disclaimer:
This site does not store any files on its server. We only index and link to content provided by other sites. Please contact the content providers to delete copyright contents if any and email us, we'll remove relevant links or contents immediately.