Lady Luck by Kristen Ashley
Author:Kristen Ashley , Date: March 26, 2014 ,Views: 1946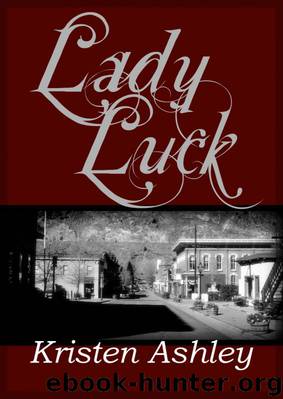 Author:Kristen Ashley
Language: eng
Format: epub, mobi
Tags: romance, crime, contemporary romance
Publisher: Kristen Ashley



Chapter Thirteen
An Hour
"What do you think?" I asked Dominic as I showed him the flier I'd painstakingly crafted on software I'd never used before considering my skills with computers were limited to e-mail, internet shopping, facebook, downloading e-books on my reader and looking up weather and movie times.
In other words, working on it between taking phone calls, ringing up services and purchases, dusting and restocking shelves, assuring every exiting customer that they looked fabulous, the flier took me five days.
And the flier was important. It announced the soon-to-be released new services Dominic's spa was offering, making his spa that was really a salon into an actual spa.
Therefore I wanted it to be right but knew it wasn't.
"I love it!" he cried, snatching the flier out of my hand to examine it closer.
Perhaps I was wrong.
"You do?" I asked, thinking it looked what it was, like a blind six year old with learning difficulties designed it.
"It's brilliant!" Dominic exclaimed then shoved it back in my hand and looked at me. "Print out fifty. I'll send Daniel out with Blue Tack, a stapler and a mission."
I grinned at him, he grinned back then his eyes slid over my shoulder to the front window and narrowed.
"Shit! Shit! On a Saturday," he snapped then hissed, "figures."
I turned my head to see what he was looking at but couldn't see anything but a figure moving at the window behind the blinds that were partially closed against the heat of the sun.
He went on, "Never calls for an appointment. Thinks she owns the town, I swear. She always waltzes in here and thinks I can do her walk-in. Do I look like a stylist who accepts walk-ins? Uh… no."
Then the door opened; the figure that was obscured by the blinds moved through the door and Misty Keaton walked in.
I froze.
Shit. Shit. Fucking shit.
"Misty!" Dominic cried as if she was his bestest best high school friend who he hadn't seen since they got shitfaced at their graduation party and they'd just locked eyes at their twenty-five year reunion and he had not been bitching about her five seconds earlier.
But Misty was frozen too, her eyes on me. Clearly, she had no idea I worked there.
I came unlocked first and moved to the reception desk, not taking my eyes off her, my mind filled with options on how to play this, so many of them, I couldn't get a lock on a single one and all the while I moved I felt Dominic follow.
"Long time, no see, darling. What brings you to Dominic's House of Eternal Beauty?" Dominic asked Misty (this wasn't actually the name of the salon, it was called "Carnal Spa" but Dominic referred to it by different, inventive, hilarious names all the time).
Her body jerked and she hesitantly moved to the high front of the receptionist desk.
"Uh, here to see if you can fit me in, Dominic," she said softly, her eyes shifting back and forth between Dominic and me. She stopped in front of
Download


Copyright Disclaimer:
This site does not store any files on its server. We only index and link to content provided by other sites. Please contact the content providers to delete copyright contents if any and email us, we'll remove relevant links or contents immediately.