Chasing Red by Isabelle Ronin
Author:Isabelle Ronin , Date: September 25, 2017 ,Views: 4445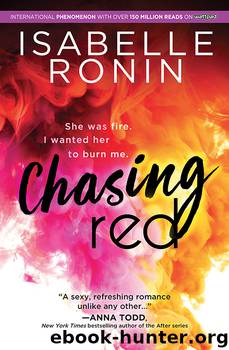 Author:Isabelle Ronin
Language: eng
Format: epub
Publisher: Sourcebooks, Inc.
Published: 2017-07-13T04:00:00+00:00



Chapter Twenty-one
Veronica
A little while later, I'd decided to call it an early night and was about to curl up with a book when I heard a knock on my bedroom door.
"Red?"
"Come in, Caleb."
He opened the door halfway, poking his head in.
"Well, now, since you blew up like a cheetah on crack, there went my dinner," Caleb teased, smiling charmingly. He opened the door all the way and entered.
He'd just had a shower and was rubbing a towel to dry his hair. He was barefoot and shirtless. A few drops of water glistened on his chest. My eyes roamed downward to his flat stomach, and then down to the exposed V line until it disappeared in his jeans. He hadn't fastened the top button. My mouth felt dry.
I looked away, feeling heat creeping up my neck. I knew I was blushing. And I knew he was grinning. He probably was half naked on purpose.
"I'm hungry," he said. But he said it in a hungry voice, like he wanted to eat something…and when I looked up into his eyes, I knew.
He was hungry for me.
Good Lord.
"Do you—" My voice sounded hoarse so I cleared my throat. "Want me to cook something for you?" My stomach growled, and I realized I was hungry too.
He blew out a breath. "I think we need to get out of here before I eat…someone."
My mouth dropped open, and I'm pretty sure my face was beet red.
He bit his lip, grinning. "Why don't we go out to eat? It's a holiday tomorrow so we can stay up late." He winked. "Wear a dress, Red."
I was so stunned by what he'd said about eating someone that I just nodded before he left.
In a daze, I padded to the bathroom to get ready.
I had a dilemma. The only dress I had was the red bandage dress I'd worn at the club, and he had already seen me in it.
I let out a frustrated breath. This was ridiculous. I'd had no problem wearing the same clothes before. I couldn't afford new clothes even if I wanted any.
But Caleb made me want to look beautiful for him. For once in my life, I wanted to impress a boy.
What was Caleb's type? I racked my brain, thinking of all those times I'd seen him with a girl draped on his arm. I'd never really paid much attention to him before—his type and my type did not mix—but the times I had seen him, I did notice the girl was always blond.
Yeah, his usual type was blond. And my hair was black as midnight.
I stared at my image in the mirror. My dark hair fell straight as a pin to my waist. Should I curl it?
I only applied a little powder and the red lipstick that he'd named me for. My eyes were too big, my mouth too wide. Should I apply more makeup?
When I put the dress on, my boobs looked enormous. Were my hips too wide? They looked like I just gave birth.
Download


Copyright Disclaimer:
This site does not store any files on its server. We only index and link to content provided by other sites. Please contact the content providers to delete copyright contents if any and email us, we'll remove relevant links or contents immediately.