Cammers With Benefits by Kaylee Spring
Author:Kaylee Spring [Spring, Kaylee] , Date: February 14, 2020 ,Views: 52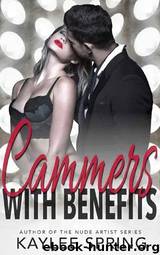 Author:Kaylee Spring [Spring, Kaylee]
Language: eng
Format: epub
Publisher: Jots & Blots Press
Published: 2020-01-01T16:00:00+00:00



Chapter 11
For the next three days, I convince myself that as long as I remain inside the hospital, I won't have to face the real world and all its consequences. I eat in the cafeteria or from vending machines, clean myself the best I can in bathrooms late at night when no one else is likely to come in, and sleep on the sofa in the maternity ward's waiting room, just as Dr. Heyman taught me.
Brice is all there mentally, which is a massive relief. The concussion he suffered was minor, and they're confident that it will heal without major consequences for the future. The same can't be said for the rest of his body.
Despite the painkillers he's hooked up to, Brice is in constant agony, though he hides it well. So well I sometimes forget that under his hospital gown, sixteen of his bones are either cracked, broken, or shattered. But I do catch him staring out the window sometimes, a heartbreaking expression of misery painting his expressions. But that's only ever when I first show up in the morning, for about half a second before he notices my presence.
But today's sad moment was hours ago. It's now lunchtime, so I'm spooning weak beef broth to his lips, saving the strawberry Jello for last. Brice has been quieter than normal, but it would be selfish to always expect him to be putting on a mask for my sake.
A bit of broth dribbles down his chin, and while I'm wiping it with a napkin, he asks, "You haven't heard from my mom in the past few days, have you?"
I bite my lips and shake my head. "The last time I saw her was four days ago. Why? What's wrong?"
"Nothing, nothing," he says, unconvincingly. He's back to staring out the window. "I think she's just busy." He sighs. Turns to me. His eyes are trying and failing to hide heaps of worry. "I used to help her pay the bills, so I think she's just looking for an extra job. I guess I'm just worried. That's all."
"That's all?" I ask incredulously, as though I hadn't overheard their earlier conversation. As though I didn't have a plan in the works to remedy this exact situation.
He waves me off with his bandaged hand. "We've got some savings, so it'll be fine."
I've known Brice all my life. He's never had more than five hundred dollars in the bank at one time. Not that it's his fault. Whatever extra he managed to make went straight to his mom.
"Maybe I can help out," I offer.
"Really?" he asks, unable to contain his burst of hope. But then he's glaring at me, trying to see through me. "I know Greg has basically dropped us, but you're not going to go back to camming are you? I'm really not into the idea of guys getting off to you, thinking they can have you if they just tip enough money."
"No camming," I say, agreeing with him. "I was planning to tell you the good news tonight after I snuck in some burgers, but I got a job.
Download


Copyright Disclaimer:
This site does not store any files on its server. We only index and link to content provided by other sites. Please contact the content providers to delete copyright contents if any and email us, we'll remove relevant links or contents immediately.