Burn in Hail (The Hail Raisers Book 3) by Lani Lynn Vale
Author:Lani Lynn Vale [Vale, Lani Lynn] , Date: November 24, 2017 ,Views: 3332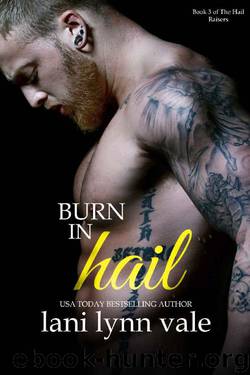 Author:Lani Lynn Vale [Vale, Lani Lynn]
Language: eng
Format: epub
Published: 2017-11-14T23:00:00+00:00



Chapter 14
When someone tells me 'you're going to regret that in the morning' I only laugh. Why? Because most of the time I sleep in until noon.
-Krisney to Hennessy
Hennessy
I nervously worried my lip as I walked, looking both ways before I crossed the street to Tate's place.
He'd left me a note on my front door saying that he was at home whenever I got home, and to come over when I got changed into old clothes.
Why I needed old clothes, I had no clue, but I did as he asked, changing into my oldest pair of jeans from high school that barely fit. They were old, stained, and so thin in some places that there probably wasn't much life left in them. I followed the pants up with an old black t-shirt that used to be Reed's—yes, I'd stolen that from Krisney, too. Finally, I finished the ensemble by putting on a pair of short ankle socks, my old Nikes that'd seen better days, and my hair up into a high ponytail.
"Isn't that Reed's shirt?"
I grinned and looked down at it, laughing.
"Yeah, it was his old soccer shirt." I nodded. "When Krisney and he split, she was going to throw everything away. I took it for safe-keeping."
And wore it, because why the hell not?
The back of the shirt said 'Hail' with the number ten beneath it. It was obvious whose it was seeing as Reed was the one and only Hail brother that nearly went pro—so everybody knew who he was.
"Yeah," I grinned. "Why?"
He was scowling, which caused my grin to slip away.
"What?"
His eyes came up to mine, and he gritted his teeth for a few seconds before saying, "I don't like seeing some other man's shirt on you, even if it was from when he was a little runt."
I looked down at the t-shirt.
It was a large, and that was definitely not the size of Reed any longer.
Speaking of Reed.
"I saw Reed last week," I told him, climbing his porch steps as I spoke. "Why is he here?"
Tate shrugged. "Been here the last few days, actually. Assumed he was done over there to be honest. However, I can't give you a for sure answer without asking him, and honestly I don't fucking care that much."
So he didn't know what was going on either. Interesting.
Making a mental note to ask Krisney about Germany again, I took a look around at Tate's house.
The entire place looked like chaos. Electrical cords stretched everywhere. Tools on every available surface. Large sheets of plastic hanging down from the ceiling, and covering most of the floor.
And empty fast food cups everywhere.
"You are a mess and a half," I murmured, taking everything in.
"I'm not usually," he admitted. "Just fucking nice to be able to do shit that doesn't have someone following behind me telling me I can't. I have a stack of freakin' clothes in my bedroom that I haven't put into the washer yet, all because I don't like to be put on a schedule."
I could imagine.
Download


Copyright Disclaimer:
This site does not store any files on its server. We only index and link to content provided by other sites. Please contact the content providers to delete copyright contents if any and email us, we'll remove relevant links or contents immediately.