Shielding Devyn (Delta Team Two Book 6) by Susan Stoker
Author:Susan Stoker [Stoker, Susan] , Date: June 11, 2021 ,Views: 29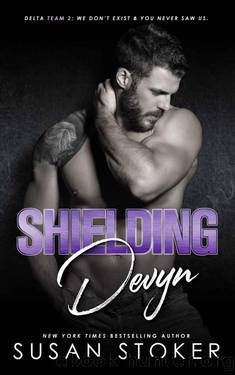 Author:Susan Stoker [Stoker, Susan]
Language: eng
Format: epub
Publisher: Stoker Aces Production, LLC
Published: 2021-05-17T18:30:00+00:00



Lucky paced the waiting room. They'd all been led to a separate, smaller room while they waited to hear how Aspen and her baby were doing. He wasn't alone in his anxiety. Gillian, Kinley, Riley, and Devyn sat huddled together in the corner, talking in low voices and doing their best to keep their spirits up. He, Oz, and Doc were all pacing, while Trigger, Lefty, and Grover sat off to the side, hyper alert, their gazes glued to the door.
They'd been there for two hours, and while Lucky was worried about his friends, he was also pissed off that Spencer was in Texas. He hadn't come to the hospital with Grover, but just knowing he was there, and that Devyn was probably stressed out about his sudden appearance, had Lucky on edge. He wanted to take Grover aside and tell him everything. To warn him. To tell him to keep Spencer way the fuck away from Devyn. But he'd made a promise.
He hated keeping secrets from Grover. It went against everything he knew. Everything their team stood for. But for Devyn, he'd break every fucking rule he'd ever known. She was that important to him.
The last week had been one of the best in his life. He seemed to have everything now. His work, which he loved. And when he came home at night, he got to relax and laugh with a woman who just made him feel so damn good. Not to mention the nights, when he got to make love to her and sleep with her in his arms.
And today had started out just as great. Lucky loved hanging out with the guys on the team in a relaxed atmosphere. They worked well together, both on the battlefield and in their downtime. And looking over at the front porch of Grover's house and seeing the women there, laughing and enjoying spending time together, had made something within him…settle. There wasn't a word for how he'd felt seeing Devyn smiling and laughing with some of the best women he knew.
But the second they'd heard Gillian's whistle, they'd all instinctively known something was wrong. They'd all taken off for the house the second they'd heard it. Seeing the blood coating Aspen's pants wasn't something they'd been prepared for. But the former combat medic had kept it together, and the team had done what they always did…worked in tandem to get shit done.
Then Spencer rode up in the midst of the chaos…
He hadn't been expected or welcome.
As if reading his mind, Grover got up and approached Lucky. "When Spence called this morning and said he was on his way down, and would be here in just a few hours, he caught me off guard," he said urgently. "If he'd answered any of my previous calls, I would've told him it wasn't a good idea to visit right now, and done what I could to make him tell me what the hell's going on between him and Devyn. The second I agreed he could stay with me when he got here, he thanked me and hung up.
Download


Copyright Disclaimer:
This site does not store any files on its server. We only index and link to content provided by other sites. Please contact the content providers to delete copyright contents if any and email us, we'll remove relevant links or contents immediately.