Never Say Never - The Complete Series by Renshaw Winter
Author:Renshaw, Winter [Renshaw, Winter] , Date: August 2, 2020 ,Views: 23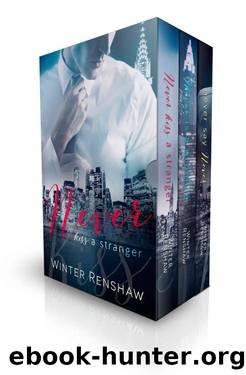 Author:Renshaw, Winter [Renshaw, Winter]
Language: eng
Format: epub
Published: 2015-11-03T08:00:00+00:00



SEVENTEEN – BEAU
"You ready yet?" I rapped on her door, pressing my ear closer. She'd spent a solid hour getting ready to go out Monday night. As long as she was taking to clean up, I'd have figured she was making some kind of red carpet appearance.
The door burst open a second later followed by a light gust of perfume and hairspray. A vision in black, her legs were hugged by leather leggings and a sparkly black top which hung low enough to give a man a heart attack but still left enough up to the imagination. Diamond studs flashed from beneath her long, dark hair. She bent down, placing a pair of heels on the floor and then stepping into them, instantly bringing her up to my level. Well, almost.
"Ready," she said.
One look head to toe and I'd lost my train of thought for a minute. "All right then. Ivy's down at the Rusty Nail, waiting for us."
It took every last bit of strength, but I resisted placing my hand on the small of her back as I followed her down the stairs.
"We're taking the 'Vette tonight," I announced the second we stepped outside.
"What is this, a date?" she asked.
I pulled the keys from my pocket and unlocked her door, pulling it open. "Only if you want it to be."
Ten minutes later, we were walking into the Rusty Nail, or The Nail as the locals always called it.
"Beau!" Waylon the bartender greeted me as he wiped up the bar. A few regulars sat hunched over the bar nursing their beers, turning long enough to see it who it was before tending back to their drinks. That was always the nice thing about Darlington. It was the only place in most of America that I could walk into a hometown bar and be left alone enough to enjoy a couple drinks. "Who's this pretty little thing on your arm?"
"This is Dakota," I said, gripping my arm around her tensed shoulders. "She's an old friend of mine. We go way back."
"You ain't from around here, are you, darling?" Waylon asked, keeping his eyes above neck-level out of respect for me.
"Actually, I grew up here." She smiled politely.
Waylon tossed her a cock-eyed smile. "Huh. Didn't know Darlington ever made anything as pretty as you."
"Hey, now, Waylon." I placed my hand in the air as if to imply she was spoken for.
"Sorry, Beau," Waylon laughed. "Darling, what are we drinking tonight?"
Dakota opened her mouth to order, but I stopped her. "We're going to start out with some shots. Three tequila shots, Waylon."
"You got it." Waylon spun around and grabbed a bottle of Patron and some sliced lime wedges.
"You seen Ivy?" I asked. "Said she was here already."
Waylon nodded toward the back of the bar where Ivy was cornered by Billy Loeffler, the guy who'd chased her all around in her younger days – the guy I'd chased away from her every chance I got.
"Ivy," I shouted out, grabbing her attention. She popped her head up, her face lighting up like a sky full of stars when she saw us.
Download


Copyright Disclaimer:
This site does not store any files on its server. We only index and link to content provided by other sites. Please contact the content providers to delete copyright contents if any and email us, we'll remove relevant links or contents immediately.