World's End by Ed James
Author:Ed James [James, Ed] , Date: August 24, 2020 ,Views: 312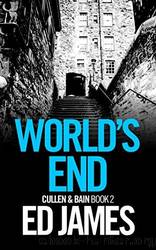 Author:Ed James [James, Ed]
Language: eng
Format: epub
Published: 2020-05-31T22:00:00+00:00



12
Cullen
George Square meant the University of Edinburgh. Half a block of lovely old Georgian townhouses, a load of Sixties monstrosities, and some turn-of-the-millennium chrome-and-glass stuff. Shouting and grinding came from the nearby square that skateboarders had commandeered years ago. No matter what the university did, they still couldn't shift them.
Cullen leaned back against his car and let out a sigh. 'Haven't been here in a while.' He remembered the business department used to be in the William Robertson building, right in a horrendous wind tunnel, but it had moved round to one of the posh old houses. Maybe it had been in David Hume Tower, one of the two giant monstrosities that blighted Edinburgh's southside skyline.
Angela was leaning against her car, shades on. 'The old alma mater, right?'
'Right. Time and a place for everything.'
'And that's called college. Yeah, yeah.'
'Sorry, Yvonne's got me watching old South Park episodes just now.'
'Didn't think that'd be her bag.'
'Me neither.'
'Still, Netflix and chill. Must be serious?'
'It's Amazon Prime, but yeah.' Cullen found himself smiling. He sniffed it away. 'You want to lead in here?'
'Oh, that'd be super sexy.' Angela rolled her eyes and skipped up the steps. She stabbed the button and waited, arms folded.
Cullen took his time climbing up. No messages on his phone, which meant Bain hadn't set off any more fireworks. At least none that Methven had been made aware of. 'I saw Sharon today.'
'You okay?'
'We're fine.'
'I heard she's moving.'
'Right, so you're still in touch, then.'
'One of the few who'll even speak to me.' She hit the buzzer again. 'People are weird.'
'They'll come round. Don't worry.'
'Just wondering if returning to this job is the right move.'
'You need a job and you're good at this one.' Cullen shrugged. 'And I'll need a sergeant once I've kicked Bain into touch.'
'Seriously?'
'Watch this space.'
The intercom rasped. 'Hello?'
'DC Caldwell here to see Professor McGarrigle?'
The door buzzed.
'See what I mean?' Cullen followed her inside. 'Bain would've just tried to blag his way in. You called ahead.'
Download


Copyright Disclaimer:
This site does not store any files on its server. We only index and link to content provided by other sites. Please contact the content providers to delete copyright contents if any and email us, we'll remove relevant links or contents immediately.