Kill Order by Adam Blumer
Author:Adam Blumer [Blumer, Adam] , Date: August 21, 2020 ,Views: 281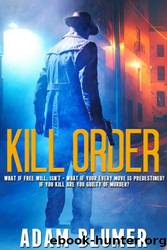 Author:Adam Blumer [Blumer, Adam]
Language: eng
Format: epub
Tags: Fiction, Thrillers, General
ISBN: 9781645261865
Google: J9XCxwEACAAJ
Amazon: B07VRSPGMN
Publisher: Lamplighter Suspense
Published: 2019-08-15T04:00:00+00:00



Chapter 33
Thursday, October 29
Near Newberry, Michigan
Why do so many people live in cities, given that the least-populated areas of this world are the most beautiful?
Trees rose everywhere. Tall, mammoth pines, higher than telephone poles, scraped the clouds. Sometimes they covered the roadside in neat rows beyond what I could see. The dirt road wound through the woods on the way to Pike Lake like the surveyors had been heavier on moonshine than on common sense. But if the road delivered us to our destination, I couldn't complain.
The rain finally stopped, and the clouds broke apart, revealing blessed sunshine and pristine skies. Great blue swatches of the lake glimmered every now and then through breaks in the trees. Small, weatherworn signs announced exotic destinations including "Almost Paradise" and "Lake Haven." Nothing but cabins and summer homes, apparently. Who else but vacationers or retirees would put up with the forty-five-minute drive back to civilization in Newberry?
"In the middle of nowhere" didn't exaggerate, but this was exactly what I'd hoped for. An out-of-the-way spot where we could hang low for a few days, make a few landline phone calls, and decide on a game plan.
"We used to come here for a week each summer," Jade said in a voice thick with reminiscence. "We'd swim in the lake, catch fish for supper, get sunburned on the beach, and go for long walks in the woods with the mosquitoes and pick wild blueberries. But then Aunt Marianne got sick, and we stopped coming after that. Nobody's been back much since, though one of my cousins comes out every once in a while to mow the grass and make sure everything's as it should be."
"And it has power and a telephone?" Doubt dripped from Mom's voice.
"No power unless you want to count a generator. But yep, there's a landline telephone."
I shook my head. "So telephone lines but no power lines. That doesn't make any sense."
"It does if you want to limit your clientele," Jade said, "if you don't want a bunch of city slickers trashing the wildlife."
I counted the worry lines in my mom's forehead. She embodied no roughing-it type, but this bivouac should last only a few days, right? And then what? An FBI safe house? That's what I prayed for, but a small voice in the back of my head told me not to count on it.
"This is it." Jade pointed. "There's the driveway."
Gravel crunched under the Malibu's tires when I turned off the road beside a sign announcing PINES PALACE and followed two-wheel ruts between more trees. Ferns, quack grass, and other weeds scraped the car's undercarriage. Apparently Jade's cousin had slacked off on the maintenance lately.
The driveway wound up a small rise and abruptly ended only feet from a quaint, if not rustic-looking, log cabin, perched atop a fern-covered hill. A beautiful blue lake shimmered through the greenery below.
I parked, glad to be on my feet after our five-hour drive. Stretching my back, I inhaled the strong, sappy aroma of the deep woods.
Download


Copyright Disclaimer:
This site does not store any files on its server. We only index and link to content provided by other sites. Please contact the content providers to delete copyright contents if any and email us, we'll remove relevant links or contents immediately.