TRUTH by James Crow
Author:James Crow , Date: August 28, 2020 ,Views: 311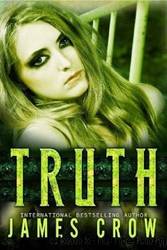 Author:James Crow
Language: eng
Format: mobi, epub
Published: 2020-04-09T16:00:00+00:00



Chapter Fifteen
TURNED out he had been shopping. The bright white cord looked positively virginal as he wrapped it around my knees and tied it tight.
'You're sex mad,' I told him. He looked at me like he didn't even know what that meant.
'You can't get enough,' I tried.
He told me to shift my ass to the bottom of the bed.
'We need to talk,' I said as the cords were pulled tight, my knees to my chest, and fastened to the bedposts behind me. I was on my back, spread wide and my pussy pouting for him.
'Talk?' He laughed, brought Mathew from his bag, tresses unfurling.
'Yes, talk. You know, how am I doing with the pushing thing? Do I need to try harder? Is there anything in particular you would like me to do?'
He dangled the tresses over my pouting pussy lips, the ends tickling me there.
'How about a golden shower? My old teacher loved a good steaming piss over his nuts. That do it for you, Father?'
I screamed when he hit me between the legs. Cursed like a fucker at the sting.
'I'm turning you on,' I said as he stuck Mathew deep. 'I'm pushing you, Father. I'm fucking pushing you,' I said as he left Mathew buried and took off his jacket.
'Take everything off, Father. Let me see you naked. Let me feel your skin against mine. Please, Father John, I need your cock so badly. Please…'
'Dani,' he said, 'shut up and fuck yourself.'
Fucking charmer. 'Mathew feels nice,' I said, sliding two fingers over my clit and grasping Mathew's shaft. I pulled it out of me, tapped the end of it off my clit, pressed it there, thrilled at the sight of him unbuckling his belt, undoing the buttons on his fly, removing the rosary from his pocket before pushing his pants to the floor and kicking them away.
Yeah, fucking rewind. It was truly a miracle and I felt suddenly blessed. My crazy priest was standing before me in only his black shirt and white collar, his cock growing hard in his hand.
His eyes were on my pussy and my eyes were on his cock, rosary beads wrapped tight around it. He was close, so close. I didn't know what to say, afraid of breaking the spell he appeared to be under. He was going to do it. He was actually going to do it. I took the lead, dropped Mathew to the mattress and slid my fingers to my pussy, opened myself up for him.
He was hesitating. So close. So focussed on my hole. I clenched it, felt the juices trickle there. He ran his tongue along his bottom lip, swallowed, eased forward ever so slightly.
I didn't say a word. Not out loud. But I did send a prayer up. Please, God. Please give him a fucking nudge.
'God forgive me,' my nearly naked priest said.
I wanted to encourage him but kept my mouth shut. Just clenched again, knowing he could see inside. Hoping he would not resist. Please, God.
My priest closed his eyes.
Download


Copyright Disclaimer:
This site does not store any files on its server. We only index and link to content provided by other sites. Please contact the content providers to delete copyright contents if any and email us, we'll remove relevant links or contents immediately.