Forget Me Not by Sarah M. Eden
Author:Sarah M. Eden , Date: September 10, 2020 ,Views: 303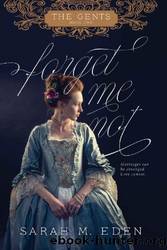 Author:Sarah M. Eden
Language: eng
Format: mobi
Tags: loss, Proper Romance, Love, Family, Eden, Grief, georgian era, Friendship, Georgian, sweet romance, Romance, Betrothal, clean, Georgian Romance, Nottinghamshire, forgiveness, The Gents
ISBN: 9781524413378
Publisher: Covenant Communications
Published: 2020-09-06T18:30:00+00:00



Chapter Nineteen
LUCAS SAT ATOP CUTHBERT'S WALL, the ruined remains of an ancient castle, feet dangling over the edge in front of him. Kes sat not far away.
"I still can't believe the local people attempt to climb the face of this wall," Kes said. "When one considers the perfectly serviceable stairs along the back, it seems the height of absurdity."
"The 'height'?" Lucas clicked his tongue and shook his head. "Word play this early in the morning is nothing short of cruel, Kes."
"It was . . . punintentional."
Lucas groaned, but beneath the sound was a laugh he couldn't entirely hide. "There is a reason you weren't named court jester among the Gents."
"No one would ever aspire to steal that title from you, my comedic friend."
Lucas dipped his head in mock acknowledgment of the tongue-in-cheek compliment. "A trick of Fate to lend me our Grumpy Uncle instead of our General. Aldric would have my messy life sorted before I even finished explaining it to him. Do you think he would come up from Cheshire? Give me a spot of advice?"
"Would you be willing to swap the General for the King?" Kes asked.
Lucas eyed him narrowly. Kes motioned to the ground below.
There stood a gentleman Lucas would have known anywhere, a friend since his first year at Eton. Digby Layton wasn't merely the best looking of their group of friends; he was generally considered the handsomest gentleman in the entire kingdom, with the swagger to match.
"Welcome to Cumberland, Your Majesty," Lucas called down. "Care to join the peasants on the Wall of Shame?"
"Is the wall still equipped with stairs on the back?" Digby asked.
"Is the King balking at a simple climb up a sheer wall?" Lucas shook his head as if both shocked and disappointed.
"And risk this?" Digby motioned to his face, then his highly fashionable frock coat, then to the entirety of his person. "I'll take the stairs."
Lucas thought of all the Gents as brothers. They were as close as friends could be. Digby was no exception. They'd been through some difficult times together, and he was one of the most important people in the world to Lucas. Seeing him there brought a sense of immediate relief.
With the speed and alacrity of a born athlete, Digby flew up the stairs. He spread a large handkerchief on the top of the wall but paused, giving it some thought. A second handkerchief was set on the first. Only then did he sit, placing himself atop his linen barrier.
"Why is Cuthbert's Wall currently the Wall of Shame?" Digby asked.
"Because Lucas is an idiot," Kes said.
"An affliction of long standing," Digby said. "If it alone were reason to exile oneself to the Wall of Shame, our friend would reside here permanently. Some new degree of idiocy must have emerged."
"He is a husband of a mere three weeks and is spending his time sitting on a wall with the two of us." Kes had a way of phrasing things that made them sound more unintelligent than they actually were while maintaining a tone of absolute sincerity.
Download


Copyright Disclaimer:
This site does not store any files on its server. We only index and link to content provided by other sites. Please contact the content providers to delete copyright contents if any and email us, we'll remove relevant links or contents immediately.