Nine by Rachelle Dekker
Author:Rachelle Dekker [Dekker, Rachelle] , Date: September 2, 2020 ,Views: 310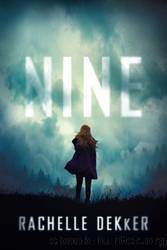 Author:Rachelle Dekker [Dekker, Rachelle]
Language: eng
Format: epub, mobi
Tags: Suspense;FIC042060
ISBN: 9781493423200
Publisher: Baker Publishing Group
Published: 2020-07-20T00:00:00+00:00



TWENTY-TWO
I WAS BACK in the glass box. The scene was growing, changing, as if someone were slowly making the room brighter and my vision was being stretched. More details of the room were coming into focus. And with each new tidbit of information, I recalled a different memory.
Small ones, but mine. And each time I discovered something I had forgotten, I felt closer to who I was. It gave me the sense that at any moment the right memory would unlock them all. Like I was slowly digging through the dense terrain, and eventually I'd find a hidden cavern and fall right through the earth.
Stay focused, Luce. Remember you are in control.
Zoe had given me the pet name. I liked it. Made me feel more connected to her, which I needed to withstand the panic. To get to the next scene I needed to survive this one. Get to the brink of drowning without losing control. This was my fourth attempt today. I was getting closer.
We pieced together that I had lost control when it mattered most, and I'd paid for it with time in the pit. But here in my memories it was all about leveling up so I could access more. According to the bratty unicorn girl, that was key.
Dr. Loveless had suggested that maybe the unicorn girl was my younger self trying to help guide me through my subconscious. If that was true, I hated my younger self.
The water was rising, the cold still a shock even though I'd experienced it a hundred times. It was up to my knees. I'd controlled my reaction as far as my forehead. But fighting off the body's natural instincts to survive was difficult.
Doing good, Luce. Keep your focus on reality. The water isn't real.
Her encouragement along the way seemed to help me endure longer. The water was at my waist as my eyes carefully surveyed the room. Anything new could be the linchpin.
What's happening? Zoe's voice sounded panicked.
"The water is rising, nothing new—"
Lucy, you have to come back.
"What?" The water was rising up over my chest. "Zoe, what's going on?"
There was only silence in response as the water continued to pour in. A long moment passed, and then Zoe's voice cut back in.
Lucy, come back! Come back now!
I'd never heard her so panicked. I didn't know how to come back. The room started to dim as my terror sucked back the light.
"Zoe!" I cried. "Zoe, are you there?"
There was no answer. She always answered. Something was happening. The water now lapped at my chin. I had to get out of here but didn't know how. I turned in a circle, treading the water as it continued up toward my face.
Lucy, Lucy, please come back! We're under attack!
Attack. I couldn't respond because I was fully submerged now. I crouched in the water and opened my eyes to peer through the glass. Just darkness remained. All that had been there each time before was gone.
Something tickled the center of my chest.
Lucy! Can you hear me?
Her voice was fading, softer than it had been a moment ago.
Download


Copyright Disclaimer:
This site does not store any files on its server. We only index and link to content provided by other sites. Please contact the content providers to delete copyright contents if any and email us, we'll remove relevant links or contents immediately.