The Enemy by Sarah Adams
Author:Sarah Adams [Adams, Sarah & Adams, Sarah] , Date: September 4, 2020 ,Views: 613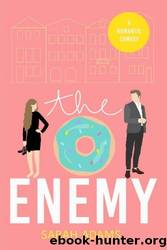 Author:Sarah Adams [Adams, Sarah & Adams, Sarah]
Language: eng
Format: epub
Published: 2020-08-28T16:00:00+00:00



Chapter Sixteen
June
The moment my eyes pop open, I think wedding day.
I should be happy for Stacy—and I am—but I'm also bummed because I can't help but wonder if Ryan will go home right after the wedding or wait until tomorrow. My stomach sinks at the thought of repeating one of my least favorite days: graduation day.
I know for a fact that Ryan flew out on a red-eye that very night. How? Because I went to Logan's house in search of him later that night. I think my professed plan was to stab him with a butter knife for humiliating me. But really, I was secretly hoping that he would change his mind and finish the kiss he'd started. When I got to the house, though, Logan's mom gave me a sad look and said that Ryan had already left for school.
My first thought was WHO LEAVES FOR SCHOOL AFTER JUST GRADUATING FROM SCHOOL?
My second thought was that Ryan had told her to say that so he didn't have to see me again. His version of sorry, can't, I'm washing my hair. It made me hate him more.
For years, I seethed, thinking that Ryan had flicked me off his shoulder like a piece of lint he never wanted to see again.
Now, I know he was going off to start his culinary training in France. I wonder if I had known that back then, would it have changed anything? If I hadn't forbidden Stacy and Logan from talking about Ryan the day after the almost-kiss of doom, would I have been in love with him all of this time instead of wishing on every shooting star for his shampoo to magically get replaced with Nair?
It doesn't matter now.
It's Stacy's special day, and that's all I need to focus on.
I roll over and grab my phone and shoot her a text.
JUNE: Do you hear that sound????
STACY: What sound?
JUNE: WEDDING BELLS!!!!
STACY: *Gif of old lady dancing in the kitchen*
JUNE: *Gif of a couple French kissing*
STACY: Hey, do you have my green jumper? I need it for the honeymoon.
JUNE: Why? You don't need clothes on your honeymoon.
STACY: June…bring the jumper. You've had it for like six months.
JUNE: CRACKLE CRACKLE CRACKLE. Bad service. Can't hear you. Sorry!!!
Stacy's out of her mind if she thinks she's ever getting that jumper back. My phone buzzes again, but it's not Stacy this time.
RYAN: Want to get an early lunch later before we have to go to the church?
I throw my phone on my bed and avoid it for the next ten minutes. I brush my teeth. I throw on my running clothes and tennis shoes. I tie my hair in a ponytail and fill up my water bottle, all while avoiding the phone on my bed at all cost. I'm Frodo Baggins, though, because I swear I can hear that thing calling for me from the other room even though the volume is not on.
By now, I've formulated a very eloquent piece of literature in my brain, explaining all the reasons why I can't go with him to lunch.
Download


Copyright Disclaimer:
This site does not store any files on its server. We only index and link to content provided by other sites. Please contact the content providers to delete copyright contents if any and email us, we'll remove relevant links or contents immediately.