The Greek Claims His Shock Heir by Lynne Graham
Author:Lynne Graham [Graham, Lynne] , Date: February 8, 2019 ,Views: 1471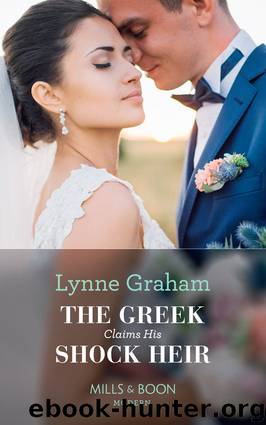 Author:Lynne Graham [Graham, Lynne]
Language: eng
Format: epub
Publisher: HarperCollinsPublishers
Published: 2019-01-14T23:00:00+00:00



CHAPTER SEVEN
ANOTHER CAR DREW up at the harbour and Winnie waited while the car seat was installed, freezing into stillness as Eros approached her and extended Teddy, who was sleepily snuffling and tear-stained. Her husband's silence unnerved her as much as the chill in the emerald-green eyes welded to her flushed and discomfited face. Eros turned the sports car and drove off ahead of them, her transport whisking her at a more sedate pace back up to the house on the hill and the reception she had vacated in such a panic. Still half-asleep, Teddy clung to her.
Emerging from the vehicle, Winnie stilled and bit at the soft underside of her lower lip. 'What now?' she whispered unevenly as Eros stalked up to her.
Eros's brilliant gaze flashed like a storm warning between lush black lashes. 'Now we entertain our guests until their departure. Luckily for us, your grandfather is not known for his company manners. That he left early with your sisters will not surprise anyone. You went down to the harbour merely to say goodbye to your family.'
His icy intonation had scoured every scrap of colour from Winnie's cheeks. 'We have to talk.'
'After the wedding,' Eros traded with sardonic emphasis. 'I refuse to parade my mistakes in front of an audience.'
Her teeth clenched so tightly at his ready admission that marrying her had been a mistake that she hurt her gums. Even so, she swallowed hard on an acid retort because, whether she liked it or not, discretion made better sense, particularly when it would protect Teddy from witnessing the conflict between his parents.
What remained of the afternoon and early evening felt unbearably long and was an unimaginable strain for Winnie. Her jaw ached from smiling and with the amount of effort required to keep Teddy entertained and in a good mood. It felt like a relief to pop her son into a bath after a quick supper and then hand him over to the hovering nanny until it occurred to her that she still had to face Eros.
For a bridegroom, Eros had contrived to give her a very wide berth since their return to the reception and when one of the guests had expressed surprise at the newly married couple's failure to take to the dance floor, Eros had smoothly concocted the excuse that his bride was suffering from a recently sprained ankle that was still tender.
Yes, Winnie was learning all sorts of unwelcome facts about the man she had married, facts that were distinctly unsettling. Eros was outrageously nimble and versatile in a tight corner and a far better dissembler than her grandfather, who had struggled to conceal his hostility throughout the wedding. With Machiavellian cunning, Eros had masked his suspicions yet still contrived to coolly outmanoeuvre the older man. Eros had played them all, she recognised angrily, let her make an absolute fool of herself traipsing down to the harbour while knowing from the outset that as long as he retained physical possession of their son, she was unlikely to leave.
Download


Copyright Disclaimer:
This site does not store any files on its server. We only index and link to content provided by other sites. Please contact the content providers to delete copyright contents if any and email us, we'll remove relevant links or contents immediately.