The Kissing Booth by Beth Reekles
Author:Beth Reekles [Reekles, Beth] , Date: March 27, 2014 ,Views: 2420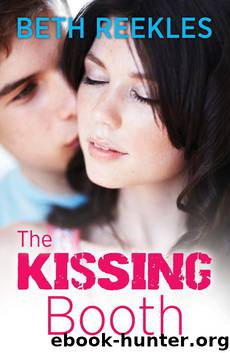 Author:Beth Reekles [Reekles, Beth]
Language: eng
Format: epub, mobi
Tags: Juvenile Fiction, Love & Romance, cookie429, Kat, Extratorrents
ISBN: 9781448172818
Publisher: Random House
Published: 2012-01-01T00:00:00+00:00



Chapter 17
WAY TOO SOON, it was the middle of May.
As if I wasn't already preoccupied enough with everything going on in my life – not to mention finals coming up – I had the school council to deal with, too.
'Well, the Summer Dance is going to be at the beginning of June,' Tyrone announced to us.
'What? But that gives us hardly any time!' someone protested loudly.
Tyrone threw his hands up in surrender, and everyone hushed up. 'I don't choose the date, sorry. This is the only time we could get the ballroom at the Royale.'
'You got us the Royale?' Kaitlin shrieked, voicing what most of us girls were thinking. The Royale was a totally extravagant hotel, all white and gold and marble.
Tyrone nodded. 'Yup. The budget managed to swing it, but we'll be tight pressed on the decorations and the band, unless we bump tickets up a little.'
'Well, we can do that,' I said. 'It's the Royale. Nobody will care if they have to pay a little more to go there.'
'True,' he said, and everyone nodded to show they agreed with me. 'Well, anyway, we really need to figure out food, a band, the tickets and—'
'We need a theme,' one of the girls said, planting her hands down on the table.
Faith jumped in her seat excitedly. 'We should totally do, like, medieval! I saw this show where they had a medieval theme and it was awesome!'
'No,' all the boys said, almost simultaneously. I giggled at the horrified look on Lee's face.
'How about black and white?'
'That's hardly summery.'
'Vintage? Like, the sixties or something? Or, no – we should do, like, the Roaring Twenties! The guys would all turn up like gangsters in flashy suits, and you know they had those – oh, what do you call them? – the flapper dresses. It'd be so cool,' Bridget suggested excitedly.
'Um, no,' someone said flatly.
'Do I get to take a gun,' Tony joked, 'if I'm Al Capone?'
'That would totally work,' one of the boys said sarcastically. It was Max, from my English class. 'Prohibition era? At a school dance? Because nobody's going to try and smuggle in alcohol and get school dances banned.'
'Well, we could have a masquerade—'
'Yeah! Oh my God, yes! That's awesome!'
I groaned and banged my head down on the table before sitting back up. 'Oh, come on! Don't you think that's just so overdone? Everybody has a masquerade these days. It's even all over TV. There's got to be something else . . .'
'We already had that stupid Hollywood theme or whatever the hell you called it for the Winter Dance,' Eric grumbled. 'At least the masquerade thing is kind of cool.'
'But it's been done so many times!'
'I agree,' Lee said.
'Of course you do,' I heard Tyrone mutter as he shook his head at us.
'Hey, we could always have a mini carnival,' said Lily with a gleam in her eyes. 'You know, with a fortune teller, cotton candy . . . another kissing booth.'
'So long as Elle's running it I'm all for that,' laughed Tony, one of the seniors, winking at me.
Download


Copyright Disclaimer:
This site does not store any files on its server. We only index and link to content provided by other sites. Please contact the content providers to delete copyright contents if any and email us, we'll remove relevant links or contents immediately.