The Upside of Unrequited by Becky Albertalli
Author:Becky Albertalli , Date: May 1, 2017 ,Views: 3926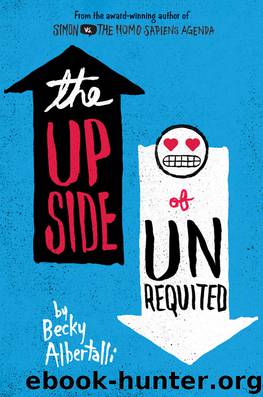 Author:Becky Albertalli
Language: eng
Format: epub, mobi
Publisher: HarperCollins
Published: 2017-03-08T16:00:00+00:00



OF COURSE, CASSIE SHOWS UP for dinner acting totally normal, like her standoff with Nadine never happened. Like she didn't throw a tantrum about the prospect of wasting a Sunday with me. And I kind of want to give her the silent treatment, except she's basically immune to it. She just retaliates with a Double-Silent-Stinkeye-Attack, and somehow, I'm the one who ends up apologizing. Clearly, I should just forget about it.
I wish I were better at forgetting about things.
We settle in around the table, and Cassie straps Xav into his high chair—but Grandma and my moms are so deep into their conversation that it's like they don't notice us.
"I don't know," Nadine says, with this tense little shrug. "She just said she can't make it." Then she pours herself a glass of wine and chugs it like it's lemonade.
Um. Nadine. Wow.
"Well, maybe it's a money thing . . . ," Patty says.
"Or maybe she's a homophobic asshole."
"Who's the homophobic asshole?" I ask.
They all startle, looking up at me.
"Oh, sweetie. I'm sorry," Patty says, glancing quickly at Nadine. "Maybe we shouldn't be talking about this at dinner."
"Need me to beat someone up for you?" I ask.
Cassie makes a face. "It's Aunt Karen, right?"
"Yep." Nadine nods.
Cassie rolls her eyes. "Yeah, I'm not even surprised."
"She's not coming to the wedding?" I ask.
Patty purses her lips. "Yeah, she's being . . . you know. She's Karen."
It's funny—Nadine and my aunt Karen have been close since they were kids. Way closer than Nadine is with Abby's dad, my uncle Albert. Karen's never been married and has no human kids, though she has four rescue dogs. But even though Nadine and Karen talk every week, and even though she just lives in Annapolis, Cassie and I have only met her in person a handful of times. She always just happens to visit when Patty's at work. And she kind of pretends like Patty doesn't exist.
In other words: homophobic asshole.
"My goodness. That makes me so sad," Grandma says. She picks up her fork and waves it around. "Love is love!"
Cassie snorts. "Thank you, Grandma."
"I'm telling you: life is too short for this bullshit."
"I'll toast to that," says Nadine, and she chugs her drink again.
But hours later, I'm still restless. So, I wait until everyone's gone to bed, and then I slide out of the bottom bunk as quietly as I can.
"What are you doing?" Cassie asks.
"Going to pee."
"No, you're not," she says.
I have no idea how she knows this. Sometimes Cassie knows exactly what I'm thinking, and I literally can't think of any explanation other than twin telepathy.
"I'm eavesdropping," I admit.
"Ooh—I'm coming with you." She slides her legs down and lands on the floor beside me with a thud.
We creep down the hall to the bathroom, and I pull the door shut slowly. Years ago, Cassie and I figured out that the vent in the upstairs bathroom is a direct portal to our moms' room. We used to bring snacks up and line the bathtub with pillows, so we could really settle in for some quality eavesdropping.
Download


Copyright Disclaimer:
This site does not store any files on its server. We only index and link to content provided by other sites. Please contact the content providers to delete copyright contents if any and email us, we'll remove relevant links or contents immediately.