Our Chemical Hearts by Krystal Sutherland
Author:Krystal Sutherland , Date: November 28, 2017 ,Views: 2884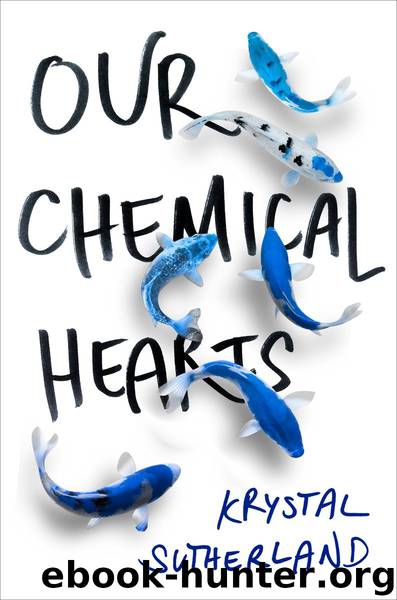 Author:Krystal Sutherland
Language: eng
Format: epub, azw3
Publisher: Penguin Young Readers Group
Published: 2016-09-09T13:51:50+00:00



THE FIRST HALF of the party, for the most part, was a lot like Heslin's. We went to the football field to drink, not from a bathtub this time, but from—I'm not even kidding—an industrial rainwater tank. (The bathtub had ended up on Heslin's roof. No one had claimed responsibility yet, but I very strongly suspected Murray.) The concoction this time was red-tinged and suspiciously frothy, like someone had cleaned the tank with dishwashing liquid and not rinsed it out before they'd sloshed in ten boxes of cheap wine. Still, it didn't taste as poisonous as the last batch, and after two bottlefuls I was fairly intoxicated, and so was Grace, thank God, because we both seemed to be much nicer people when we were drunk.
We slipped away from the group and made our way to a friend of a friend of someone's cousin who graduated three years ago's house, where the party was going down in the basement. We got there earlier than everyone else and Grace found us a suitably dark and secluded corner where we weren't likely to be spotted making out, but all I could think about was the sex we were supposed to be having later, so I just kept drinking.
The music grew louder and the basement slowly filled up with zombies and witches and pirates and sexy iterations of entirely unsexy things, like the Teenage Mutant Ninja Turtles, a papier-mâché planet Pluto in a bikini, and Madison Carlson—for reasons I will never understand—as a slutty corncob.
Grace leaned in and kissed me quickly, then went back to watching costumed people cram into the space.
"I'm going to stop going to the graveyard," she said quietly, her words ever so slightly slurred. "That's something I've never told you. I visit him almost every day, at the place where he's buried. I'm going to stop, though. For you."
I was taken aback. I'd come to accept Dom's ghostly presence as a fact of life, a condition of dating Grace Town. She would always dress like him. She would always smell like him. She would always visit his grave. But here she was, giving up a small piece of him already.
"I'd like that," I said quickly, without thinking, because now that she'd offered it, I realized it was something I wanted. I wanted her to stop spending so much time with her dead boyfriend, lying on the grass above his decomposing corpse, crying tears that seeped into the earth to rest upon his coffin.
"And I don't want you to feel like I'm, like, settling for you or whatever," she continued, still staring straight ahead. "I've never gotten along with anyone the way I get along with you."
I had to resist the temptation, in that moment, to ask her if Dom and I were standing side by side, both whole, both alive, which one of us she would choose. Because I knew, still, that it would be him. For a long time, it would be him. Maybe always. And I felt the tear in my heart rip open a little bit more.
Download


Copyright Disclaimer:
This site does not store any files on its server. We only index and link to content provided by other sites. Please contact the content providers to delete copyright contents if any and email us, we'll remove relevant links or contents immediately.