My Bought Virgin Wife by Caitlin Crews
Author:Caitlin Crews , Date: February 11, 2019 ,Views: 1534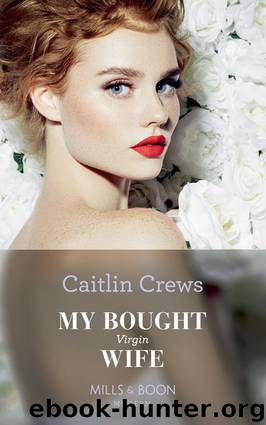 Author:Caitlin Crews
Language: eng
Format: epub
Publisher: HarperCollinsPublishers
Published: 2018-02-11T05:00:00+00:00



CHAPTER EIGHT
Imogen
IT HURT.
Oh, how it hurt.
I had meant to tell him, despite my bravado back at my father's house. But I hadn't. And then he had kissed me, sweeping me into his arms, and everything had been so thrilling, so wild—
I felt betrayed that had turned to this. To pain, though the sharpness was fading. But there was still this impossible...stretching.
I could feel him inside me. And that part of him, it seemed, was as mighty and powerful as the rest of him.
"You told me you were not a virgin." Javier's voice was the darkest I had ever heard it. Strained, almost. Gritty and harsh, but that seemed the least of my worries. "You made certain to tell me you had given your innocence to another."
It struck me as more than a little ridiculous that we were having a regular conversation. Like this. Both of us half-naked and parts of us connected in that too real, still heavy and unsettling way. I thought that all things considered, I'd very much like to cry. Though I refused to dissolve in front of him. I refused to prove that I was every bit the too-sheltered convent girl he already thought I was.
"I didn't actually say I'd slept with someone else," I pointed out.
We were so close. I wanted to shove him away from me even as he continued to hold me in the air, wrapped around his big body. And at the same time I wanted to move even closer to him, though I didn't think that was even possible.
And I had no idea why I couldn't catch my breath. I told myself it was the way he continued to stretch me from the inside out. I didn't know if it was the picturing it that made my throat go dry, or the actual sensation.
Javier's expression was far too intent. His dark eyes glittered. "This seems as good a time as any to tell you that I cannot abide lies. Of any kind. Ever. You would do well to remember that, Imogen."
I wanted to tell him what he could do with his dire warnings, but he was inside me and I was...wide-open in ways I could hardly process.
"I wanted you to think I had slept with someone, yes," I corrected myself, and then hissed out a little breath when he moved, there below, where I felt exposed and too soft and split open and shivery.
He didn't move much. He pulled the littlest bit out, then slid in again, and I shifted in his firm grip, irritably, to accommodate him.
He still held me up and it was odd to think about that. That he could be so strong that he could continue to hold me like this, my legs wrapped around him and all of my weight propped on his hands.
And on that other part of him, I supposed.
When I flushed a bit at that, he moved again. Still, only that very little bit. He did it once, then again. And again.
"Why would you tell me something like that?" Javier did not sound angry, exactly.
Download


Copyright Disclaimer:
This site does not store any files on its server. We only index and link to content provided by other sites. Please contact the content providers to delete copyright contents if any and email us, we'll remove relevant links or contents immediately.