An Innocent, A Seduction, A Secret by Abby Green
Author:Abby Green [Green, Abby] , Date: January 19, 2019 ,Views: 1503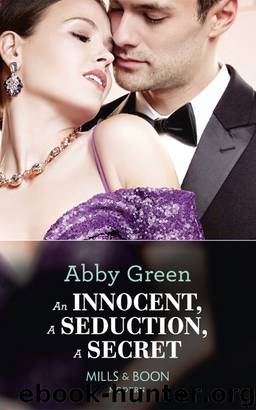 Author:Abby Green [Green, Abby]
Language: eng
Format: epub
Publisher: HarperCollinsPublishers
Published: 2018-10-31T16:00:00+00:00



CHAPTER SIX
EDIE LOOKED ACROSS at Sebastio where he sat at the end of the dining table. He'd insisted on bringing food up here from the kitchen and she felt like giggling when she thought of how they must look, eating omelettes and bread and drinking wine in a room that was more used to high-society gatherings.
After her bath Sebastio had dressed Edie in a pair of his sweats, tying the waist tight, and one of his sweatshirts. It drowned her, but she guiltily relished his scent around her. He'd put on jeans and a loose shirt.
He sat back now. 'What?'
Edie shrugged, feeling embarrassed to have been caught staring. She said the first thing she could think of. 'Your bedroom—it's not done up like the other rooms... Why is it so bare?'
He shrugged. 'When I gave instructions to redecorate the lodge I told the interior designers they had carte blanche in every room except my bedroom. I have no interest in how the house is done up. I mainly use it for corporate events. I prefer to keep things simple. My penthouse is modern, clean—it reflects more of my personal taste.' He waved a hand to indicate the plush luxurious furnishings in the rest of the house. 'This place, these furnishings, it's what people expect to see.'
'Just like the Christmas decorations, even though you hate Christmas?'
He took a sip of wine and she saw the gleam in his eye—a warning not to stray too far down this path. 'Exactly.'
Through the window behind Sebastio Edie could see dawn stealing across the sky. The entire world was white and still, and as she took another sip of wine she'd never felt more decadent. Or more alive.
Sebastio put his wine glass down and stood up, holding out his hand. She took it, letting him pull her up. Without words he led her back up the stairs to the bedroom.
Edie knew what this was—a very finite and fleeting moment of madness while they were in this bubble. She had to keep reminding herself of that, no matter what happened.
* * *
When Edie woke again it was dark outside. Shock hit her when she realised that a whole day had passed.
She suspected that if the world hadn't ground to a halt as spectacularly as it had outside Sebastio wouldn't have been so keen to let the days and nights melt into one another, blurring the passage of time. She had the sense that ordinarily the boundary lines with his lovers would be very well marked.
And she didn't think it was because she was different—no matter what her tripping pulse might tell her. It was because they'd been forced into this abnormal situation by forces outside their control.
Sebastio had turned on the TV earlier, and they'd watched news of massive blizzards and treacherous conditions across Britain. There was a national alert for people to stay indoors unless absolutely necessary.
Edie had had a text from her parents, asking if she was okay, and she'd blushed as she'd responded. They thought she was tucked up in her flat.
Download


Copyright Disclaimer:
This site does not store any files on its server. We only index and link to content provided by other sites. Please contact the content providers to delete copyright contents if any and email us, we'll remove relevant links or contents immediately.