Carides's Forgotten Wife by Maisey Yates
Author:Maisey Yates [Yates, Maisey] , Date: July 8, 2016 ,Views: 1679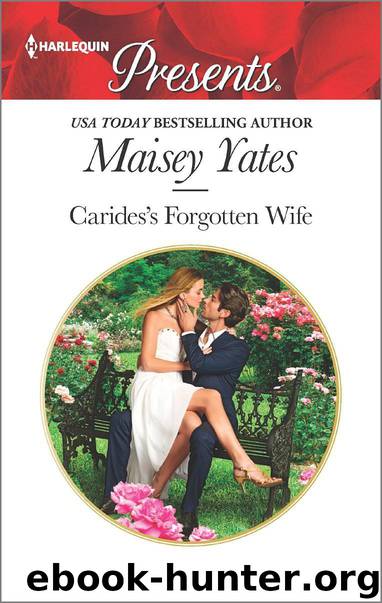 Author:Maisey Yates [Yates, Maisey]
Language: eng
Format: epub
ISBN: 9780373134564
Publisher: Harlequin
Published: 2016-07-03T16:00:00+00:00



CHAPTER EIGHT
OVER THE NEXT few weeks things seemed to progress slowly with Rose and Isabella. They employed a nanny—a married, grandmotherly sort, at Rose's request—who helped care for Isabella during the day. Though Leon tried to assume as much responsibility as he could. It was just that given the state of things, he wasn't sure he entirely trusted himself. What if he forgot some essential bit of information regarding the care and keeping of babies that everyone else knew? Or, more likely, what if he had never possessed it, but didn't know enough about himself to ask the appropriate questions?
Employing someone to assist had seemed the best option. He could hardly ask Rose to interrupt her life to care not only for him, but for his child.
Still, Rose was beginning to take some charge of Isabella on her own. When Isabella cried, Rose was often the first to move to comfort her.
Seeing them together made his chest feel like it was being torn in two. Earlier today Rose had been standing by the window, Isabella held tightly to her chest as she stared out at the garden below.
It had been like looking at something much clearer than a memory—especially since he had none that extended beyond the past few weeks. But it hadn't been wholly reality, either. It was a window into a life he didn't truly possess. Something the two of them didn't really have.
In that moment it was easy to believe this was his wife and child, and they had nothing but love between them.
Rather than the dark, tangled mass of lies and betrayal that wound itself around them like a vine covered in thorns. Thorns that wrapped themselves tightly around his gut, making it hurt every time he breathed.
He rubbed his hand over his face and eyed the bar on the other side of his bedroom. It was stocked with alcohol, evidence of the man he'd been before, he imagined. A man who had a drink as he brushed his teeth in the morning and at night.
A man who had sought oblivion with tenacity.
He laughed bitterly, the sound echoing in the dimly lit room. He had his oblivion now. And with it, he found no peace.
Improvement only described the relationship between Rose and Isabella. Improvement did not apply to his relationship with Rose. She would not touch him. She would barely talk to him.
He had imagined—erroneously, as it turned out—that after he had held her in his arms while she wept in her bedroom that she might continue to seek out an intimate relationship with him. That was not the case. She scarcely made eye contact with him unless she absolutely had to. She very solicitously inquired about his well-being, never asking about his memories, as she assumed—rightly—that if there were any change he would let her know.
But she didn't look at him the way she had. Those blue eyes, that only real, organic memory in his mind, had changed. They were icy. Angry. Or, on the very worst of days, completely blank.
Download


Copyright Disclaimer:
This site does not store any files on its server. We only index and link to content provided by other sites. Please contact the content providers to delete copyright contents if any and email us, we'll remove relevant links or contents immediately.