The One Memory of Flora Banks by Emily Barr
Author:Emily Barr [Barr, Emily] , Date: May 21, 2017 ,Views: 2238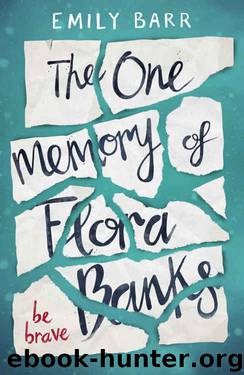 Author:Emily Barr [Barr, Emily]
Language: eng
Format: epub
ISBN: 9780141368528
Publisher: Penguin Books Ltd
Published: 2016-12-11T18:30:00+00:00



Chapter Thirteen
I follow the map and walk down a straight road that takes me past a school and an art gallery and a lot of other buildings. Away to the right there is a little wooden church. There are mountains all around. The clouds are moving fast across the sky.
I know exactly where I am (Longyearbyen) and why I am here (Drake) and where I am going (the Arctic Guesthouse). I am walking in the right direction. I am taking deep breaths, relishing every second of this overwhelming relief.
Someone is walking behind me. It is the man who helped me find my bag. When I look round he waves. He doesn't catch up with me so I carry on walking.
As I walk, I watch a dark line moving across the landscape. The line brings grey behind it, and when it reaches me, and passes me, this world, this place in which I am an ordinary human, is transformed.
The light disappears. Nothing sparkles. The magical land becomes grey and drab, and the cloud is a ceiling over my head. The sky is grey. The snow is unglittery, and grey. Every single thing is tinged with grey. The cloud becomes lower and lower as I watch, and I feel rain in the air, the sudden change in the atmosphere that means things are about to get wet. When something falls onto my cheek, however, it is not, of course, rain. It is snow.
Drake lives in a snowy place. I am here. I am right inside the snowy place, like him.
The sky behind me is blue, in the distance. There, it is sunny and bright. Here, it is snowing thicker and faster, covering the road, everything turning white as I look at it.
I don't know where I was going, but that doesn't matter. I am happy, right here and right now. I am a girl standing in the snow, marvelling at the flakes of whiteness dancing in the air around me. I am in a beautiful place and a wonderful thing is happening. Nothing else counts for anything.
I am in the moment. Living in the moment when I can must be one of my rules for life. You don't need a memory for that.
I forget that I have ever forgotten anything. When the flakes become smaller and the clouds start to blow away to snow in a different magical place, I feel as if I've been asleep for a full night. I am full of energy, and ready for anything.
The hotel is where the map said it would be. I have a key and a note telling me to go to room five, and a map to inform me which building room five is in (it is in building five, pleasingly).
The building is made from corrugated metal and has bikes and skis leaning up against it and a set of concrete steps leading up to the door. When I turn to go up the steps, I see that a man with the beard has followed me here.
Download


Copyright Disclaimer:
This site does not store any files on its server. We only index and link to content provided by other sites. Please contact the content providers to delete copyright contents if any and email us, we'll remove relevant links or contents immediately.