The Fireman's Pole by Sue Brown
Author:Sue Brown [Brown, Sue] , Date: October 22, 2017 ,Views: 6295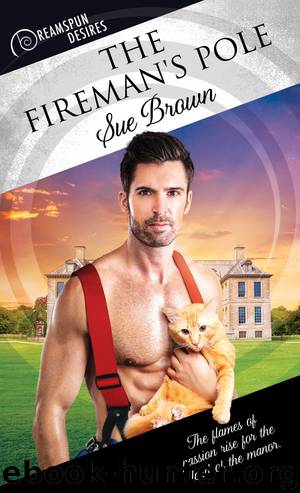 Author:Sue Brown [Brown, Sue]
Language: eng
Format: epub
Tags: gay romance
ISBN: 978-1-63533-655-9
Publisher: Dreamspinner Press
Published: 2017-10-15T04:00:00+00:00



MR. Colson, Mrs. Wilson, and Sandra sat around the scrubbed pine table, sharing a large pot of tea.
Mrs. Wilson took one look at them and sighed, shuffling over to the covered dishes on the large granite work surface. "What do you want to eat, Mr. Ben? Mr. Maloney?"
Ben would have been happy to make himself tea and toast, but he could see from the determination on her face that Mrs. Wilson wanted to be seen to do her duties. "Everything, please, Mrs. Wilson, and Dale will have the same."
Dale stiffened, but he just nodded. "Morning, Mrs. Wilson."
Ben shot a glance at Dale, begging him just to run with it. He'd apologize later for overriding him. Dale was still prickly about their interrupted lovemaking. For now they both had to make nice with Mrs. Wilson. Dale gave a brief nod as they sat down.
Sandra smirked at them, and Colson concentrated on his cup of tea.
"I was about to send Mr. Colson up again," Mrs. Wilson scolded as she set down the plates piled high with bacon, eggs, mushrooms, and hash browns in front of Ben and Dale.
"You'd have been better to turn the hose on them," Sandra said.
"Sandra!" Mrs. Wilson tutted, but Ben could see the grin she was trying to hide. She brought toast to the table, smacking Sandra's hand when she reached for a slice. "You've had yours. This is for his lordship and Mr. Maloney."
"What do I have to do to persuade you to call me Dale, Mrs. Wilson?" Dale asked. He sounded more relaxed than he had a few minutes previously.
She poured out a cup of tea before she answered. "Normally I don't address his lordship's friends by their given name." Ben was about to nudge Dale to ask him not to pursue it when Mrs. Wilson continued. "But you're one of us. So, Dale, would you like tea?"
"I would love a cup, please. Strong as you can make it." Dale looked delighted, and Ben breathed a sigh of relief. Sabrina had never treated Colson or Mrs. Wilson as anything except staff, and she'd never have asked them to call her by her first name.
Dale had done more to get in Calminster Hall's good books in a couple of days than Sabrina had the whole time they had been going out. Rescuing Mrs. Wilson had given him a head start. Although that wasn't strictly accurate, Ben thought, as he remembered Dale coming over the first day and talking to Tim. He was naturally friendly to everyone.
Ben finished his breakfast and sat back, studying Mrs. Wilson. It was clear from the way she stooped and her shaky hands that she was struggling, but Colson caught his eye and gave a quick shake of his head. Ben nodded to say he understood. Mrs. Wilson didn't want to be coddled or made to feel like an invalid, especially in front of her daughter and Dale. He would have a quiet word with her later.
"Mrs. Wilson, that was magnificent."
She beamed at Dale's high praise, but she had to add, "It was even better when it was freshly cooked.
Download


Copyright Disclaimer:
This site does not store any files on its server. We only index and link to content provided by other sites. Please contact the content providers to delete copyright contents if any and email us, we'll remove relevant links or contents immediately.