Heart of the Pack by Jenny Frame
Author:Jenny Frame , Date: July 2, 2016 ,Views: 4292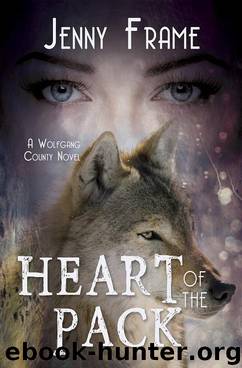 Author:Jenny Frame
Language: eng
Format: mobi, epub
ISBN: 9781626395671
Publisher: Bold Strokes Books
Published: 2016-04-09T16:00:00+00:00



CHAPTER THIRTEEN
Caden drove straight to the sheriff's office, where the elite wolves met before leading their squads out on the nightly patrols.
Dante, Flash, Blaze, and Xander were already in the sheriff's office when Caden arrived. She walked out back into the locker room where they were congregated, and all conversation stopped immediately.
Dante gave her a lopsided smile and said, "Second? Did one of our prey kick you in the face?"
The other wolves sniggered. Caden had never felt so embarrassed, and she knew it was about to get worse.
"Please don't ask, Alpha."
The locker room had an exit directly into the forest so they could undress here and lead their wolf squads all over pack land. While the others were in various stages of undress, Caden remained clothed and sat on one of the benches.
"Second, I have to ask myself why you would let yourself remain injured, when you could shift and heal yourself."
Caden held her hands over her face and said, "I can't shift and heal because it was a human who injured me, a human who might work out our secret if I show up the next day with not a scratch on my face."
Caden knew that Dante had an idea who that human was, but her silence allowed Caden to keep the rest of the story to herself.
Xander, the county fire chief, walked over and looked closely at her injured face. "You let a human do that to you?"
Caden's dominant feathers were getting extremely ruffled. "I didn't let some human do that to me, Xan, it was an accident."
"So why don't you just shift and stay away from the human in question?" Blaze asked.
Caden looked up at Dante with a pleading look and sighed. "Because I work with the human at the farm, and I promised to take her out on Saturday."
"A human female did this to you?" Xander asked, barely controlling her laughter.
Then Flash realized who it must be. "Not Selena? The little-bitty human girl who acts like a mouse?"
"Don't say that about her," Caden boomed.
"It is." Flash and Xander howled with laughter, and Caden launched herself across the room and tackled Flash, one of her best friends, to the floor.
"Take it back now." She growled and bared her teeth.
A shocked Flash turned his head to the side and offered his throat in submission. "I'm sorry, Cade. I didn't mean anything by it. You know I would never insult you or anyone you liked."
Dante gave a warning growl. "Second, get up now."
Caden pulled back and was helped up by Blaze. When she got to her feet, she seemed dazed and confused. "Wha—?"
Flash, now on his feet walked up to Caden with his eyes cast down. "I'm sorry, Second."
Dante watched closely but allowed her Second to patch up this dispute, like the dominant wolf that she was, for which Caden was grateful.
Caden put her hands around the back of Flash's neck and pulled him close. "I need forgiveness, not you."
Xander then approached with her own apologies and they reconciled in seconds.
Download


Copyright Disclaimer:
This site does not store any files on its server. We only index and link to content provided by other sites. Please contact the content providers to delete copyright contents if any and email us, we'll remove relevant links or contents immediately.