Tease (Temptation Series Book 4) by Ella Frank
Author:Ella Frank [Frank, Ella] , Date: May 21, 2017 ,Views: 4699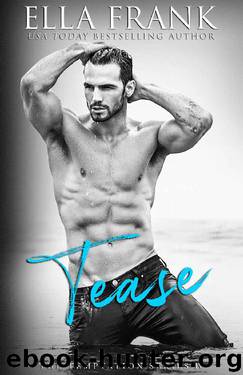 Author:Ella Frank [Frank, Ella]
Language: eng
Format: epub
Tags: Romance, Contemporary, Gay, Adult
Goodreads: 34847698
Publisher: Ella Frank, LLC
Published: 2017-05-07T05:00:00+00:00



IT WAS CLOSE to midnight when Tate unlocked the front door and headed inside the condo. All of the lights inside were off save for the lamp in the bedroom, and after he tossed his jacket over the couch, he headed straight for the low-lit room and the man he knew he'd find in it.
As he got to the door, he looked inside and expected to find Logan asleep. But instead he was leaning back against the headboard, glasses on, the sheet draped across his waist, a book in hand.
Tate rested his shoulder against the doorjamb as he ran his eyes over the scene that greeted him. "My little book nerd."
Logan looked up and lowered the hardback to rest on his lap. "Little?"
Tate crossed his arms and continued to look Logan over. "Okay, how about my sexy book nerd?"
Logan picked up his book, shut it, then set it on the nightstand. "Much better," he said, and whipped the sheet aside, exposing his very naked body. "Now why don't you get undressed and get into bed?"
Unable to ignore such an enticing invitation, Tate pushed off the doorjamb and unbuttoned his vest as Logan's eyes followed his path, and when he was finally over on the left side of the room, Logan began to slowly stroke himself.
Yes…he's definitely sexy. So very, very fucking sexy.
Tate dropped his clothes to the floor as quickly as possible, and once he was between the sheets, he scooted over to Logan's side and replaced his hand with his own. As he leisurely stroked him to full mast, Logan wrapped his arm around Tate's shoulders and pulled him to his side. Tate gently kissed his way up to Logan's ear and asked, "How was your day?"
"Productive," Logan said. "How was yours?"
Tate paused in what he was doing. "Interesting. You made a good call today."
Logan turned his head on the pillow, and Tate grinned over the fact he still wore his glasses. "If this conversation is about to involve the person I think it is, can it happen when your hand is not— Ahh, fuck."
"When it's not what?" Tate whispered against Logan's lips.
"Tate…"
"Hmm?" he said, and then reached for Logan's glasses. He slipped them free of Logan's face and then put them on, pushing them up his nose. "You were saying?"
"Can we talk about him when your hand's not wrapped around my cock?"
Tate tightened his grip and kissed him, and when he pulled back, Logan flipped one of his curls away from the thick black rims framing his eyes. "These look good on you."
"Not as good as they look on you. But tonight, I thought they'd help me see better when I get up close and personal with you."
"Then by all means, you should keep them on."
Tate grinned as he worked his way down Logan's body and kissed every inch of skin he could reach. When he finally settled between Logan's legs, he scraped his teeth over his inner thigh and said, "Oh, and don't worry, I don't plan to do any more talking tonight.
Download


Copyright Disclaimer:
This site does not store any files on its server. We only index and link to content provided by other sites. Please contact the content providers to delete copyright contents if any and email us, we'll remove relevant links or contents immediately.