How to Bang a Billionaire by Alexis Hall
Author:Alexis Hall , Date: May 21, 2017 ,Views: 7202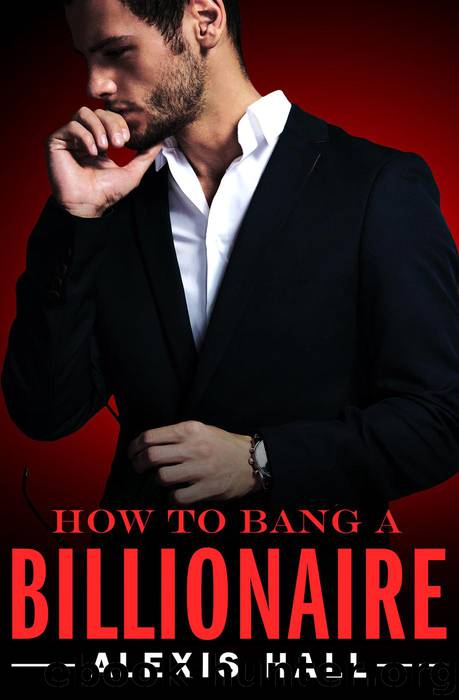 Author:Alexis Hall
Language: eng
Format: epub
Publisher: Grand Central Publishing
Published: 2017-04-17T16:00:00+00:00



Chapter 17
I woke up pretty late the next day and pattered woozily in the direction of the kitchen, noticing only just in time that the place was full of cleaners. I was sure Caspian paid them generously, but nobody needed my unsolicited wang at eleven o'clock in the morning. Diving back into the bedroom, I lurked under the duvet until they were finished. I mean, obviously I could have got dressed and gone about my business, but I didn't want to be in their way. And also the bed—as I'd previously discovered—was ridiculously big and cozy, probably because the mattress was Swedish, cost six figures, and contained a gazillion pocket springs, and the sheets were Egyptian cotton with a thread count higher than my salary would be. When I had a salary.
Wow. How was this my life? Even just for six months.
Eventually the cleaners left. And, respectably trousered—well, semi-respectably as, actually, they were my rainbow unicorn pajama bottoms—I crept over to the kitchen. The fridge, I discovered, was full of…I guess you'd call it gourmet luxuries? Or to put it another way, food that nobody really ate. Caviar and quails eggs and wild strawberries—oh, okay, I'd eat those. My drinking options were Veen Velvet, which I finally figured out was water, and champagne, which I identified instantly because I was just that classy. There was also a coffee machine, but it looked like a torture device, and I was too scared to use it. Clearly, living the high life was going to be tougher than I'd imagined.
And that was when I caught sight of the flowers on the dining table. I wasn't sure I'd ever seen a hundred roses before, but there they were: a splash of wild scarlet in the middle of all that muted, designer extravagance. Caspian had sent a note too: Thank you for a wonderful evening.
Well, that was nice. Sort of. I definitely appreciated the thought. Except it seemed more of an I took you to the opera, where your heartfelt response to the music warmed my cynical cockles gesture than an I fucked your arse until we came type of thing. But then, Caspian was inconceivably wealthy: they did things differently on his planet. I guess I was just lucky he hadn't tried to endow a professorial chair or name a building after me or something. The Guy I Shagged Memorial Library & Ancient Languages Center.
Anyway, it probably meant he'd enjoyed what we'd done together. Despite the awkward beginning. And the awkward middle. And the—well, honestly, the whole thing had been awkward. But hot too. And there were places I could still feel him, a deep, warm ache in my skin, like kisses he had left behind. Better than any other gift he could have given me.
I breakfasted on strawberries and tap water, sitting rebelliously on the edge of the gold-veined marble worktops. Then I swam and did some yoga, feeling somewhere between the Real Housewives of Kensington and Will Smith in I Am Legend. In the sense of being kind of on my own a bit.
Download


Copyright Disclaimer:
This site does not store any files on its server. We only index and link to content provided by other sites. Please contact the content providers to delete copyright contents if any and email us, we'll remove relevant links or contents immediately.