First Position by Melissa Brayden
Author:Melissa Brayden [Brayden, Melissa] , Date: August 15, 2017 ,Views: 3516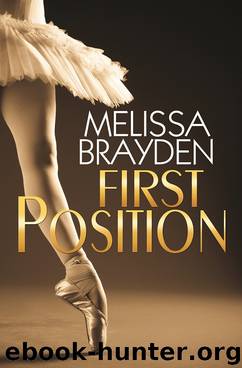 Author:Melissa Brayden [Brayden, Melissa]
Language: eng
Format: epub, azw3
ISBN: 9781626396036
Publisher: Bold Strokes Books
Published: 2016-06-16T04:00:00+00:00



Chapter Eleven
"I'll take the cheddar bacon burger," Jason told the waitress at Five Napkin. "Extra sweet potato fries and a side of the vinegar slaw." They'd snagged a table by the window at the trendy burger joint frequented by a handful of company members at the lunch rush.
Ana handed her menu to the waitress. "Chef salad with chicken for me, dressing on the side."
The waitress nodded and disappeared into the kitchen as Jason balked at Ana. "I don't know how you can do that. This place receives rave write-ups for their burgers, yet you still hold strong."
"Welcome to being female in the professional world of ballet. I'd kill for your metabolism, Jase, but I wasn't born with that kind of luck. I eat like you and I'm back in the corps, at best."
"Whatever. You look great. Beyond. You could indulge in a cheeseburger now and again. The ballet gods will allow it."
"I can. And I will. But it won't happen until after we're open, and then I will enjoy every damn bite in celebration."
"Fair enough." He grinned at her and sat back against the booth. "You didn't remember we were having lunch today."
"I did, too," she told him in defense. "Just not entirely, is all."
"I asked you last night, just as we walked up to your building."
Ah, yes. The moment she saw Natalie sitting there, lost and confused and gorgeous. No wonder she'd gone into automatic conversation pilot. She smiled, reflecting on what had been a great day of rehearsal thus far. She'd gotten to watch Natalie dance the show, and watching Natalie dance had become one of her absolute favorite activities. Not to mention, it gave her left foot a rest. The stolen looks she and Natalie passed here and there were a bonus on the day that had her a little bit on cloud nine. Plus the teasing was back. God, she'd missed the teasing.
She gave her head a shake. "I must have been distracted or something. But I'm here now and happy we're doing this. We should do one-on-one stuff more often. Like, partner maintenance."
"That's actually what I wanted to talk to you about."
"Scheduling lunches?"
"Go on a date with me."
Wait. That sounded like a different thing entirely.
"As in a real date. I pick you up. We go out on the town. You can choose where, and we see where it goes. No pressure."
The way he was staring at her now had her heart in her throat. She didn't want to hurt Jason. He was her friend, and her work husband, but at the same time, she had to be honest. "You mean a romantic date?" Ana asked. She wasn't stupid. She knew what he was asking, but the question bought her a little time.
"Well, yeah. Probably not a secret that I've had a thing for you since the beginning of time. I happen to think we'd be good together, Ana. We are in every other aspect of life. You trust me. I trust you. See? Good for each other.
Download


Copyright Disclaimer:
This site does not store any files on its server. We only index and link to content provided by other sites. Please contact the content providers to delete copyright contents if any and email us, we'll remove relevant links or contents immediately.