Right Here, Right Now by Georgia Beers
Author:Georgia Beers [Beers, Georgia] , Date: January 10, 2018 ,Views: 3340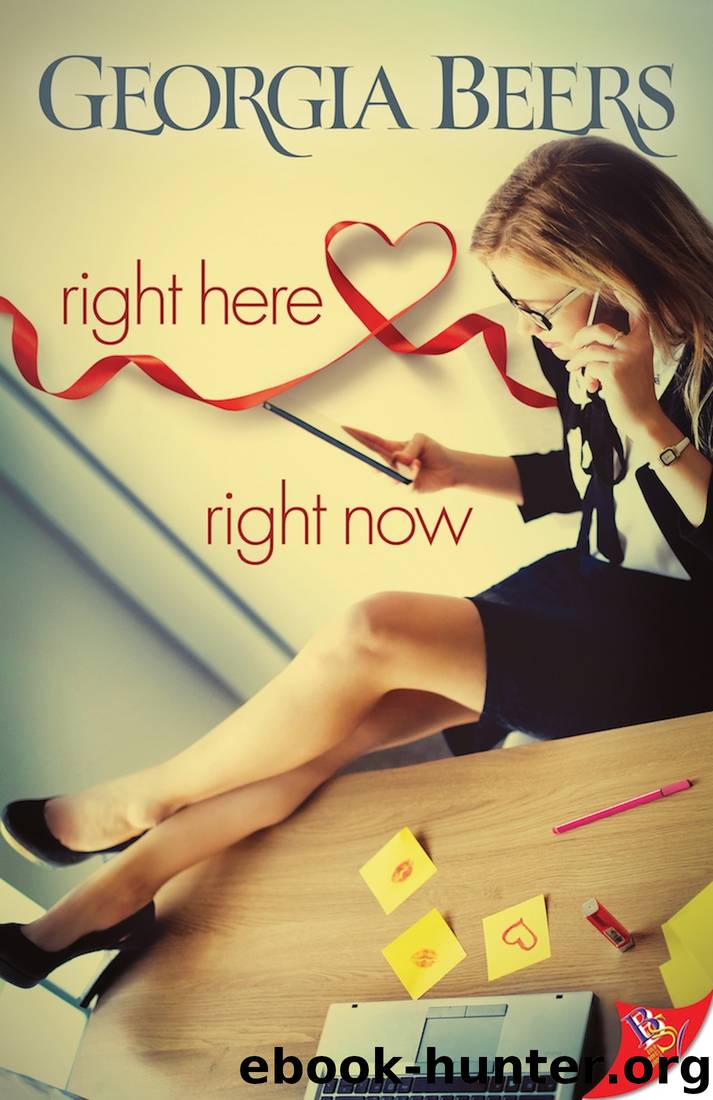 Author:Georgia Beers [Beers, Georgia]
Language: eng
Format: epub
ISBN: 9781635551556
Publisher: Bold Strokes Books
Published: 2017-11-20T05:00:00+00:00



Chapter Eleven
It's amusing to me how easily total exhaustion can be overshadowed and put on a back burner when excited anticipation shows up. I woke up Tuesday morning feeling groggy and headachy yet again from not enough sleep. The sleep I did get had been fitful, as it had since my evening with Alicia and the weird way it ended. I hit the snooze on my phone and buried my face in my pillow in the hopes that ten more minutes of rest would make a world of difference. It didn't. But when my alarm went off again and I groaned and reached for it, that changed. I hit the off button and then noticed the date emblazoned across the screen of my phone.
Tuesday, April 15.
A happy little gasp escaped my lips, and I sat up quickly enough to startle Leo, who also wasn't getting enough sleep, judging by the fact that he had barely moved with each alarm. His morning routine was totally off; no morning love fest for me for the past week.
"Leo," I said quietly, ruffling the overgrown hair on his head. He really needed an appointment with the groomer. He made a snuffling sound, lifted his head to blink at me, and yawned widely. "It's today, buddy. It's today. It's the fifteenth! We made it!" I scooped him up and proceeded with a morning love fest role reversal, kissing all over his face and head, then tipping him back in my arms like a baby so I could skritch that little belly. To his credit, he allowed all of it. I think he liked it.
The weather was bland. Not warm. Not cold. No sun, but no rain. Overcast and gray, but it didn't matter to me, because today was April 15, and the torture was over for another year. It would be a long day, but that was all right. I'd learned in the first couple of years working with my father that blocking out the fifteenth so there were no appointments was the way to go. I'd met with my very last client before the deadline last night at eight. Today would be dedicated to e-filing the remaining tax returns I had left on my computer and making sure Mary got to the post office to mail out any other things that needed to be postmarked before they closed at seven. It sounded like a lot, but I didn't care. I couldn't stop grinning.
As I did every year, I stopped on my way in to get some flowers for Mary for putting up with me for the past three months. I also grabbed a dozen donuts, smiling the whole time, being endlessly cheerful. I think the girl behind the counter thought I was a little bit insane.
In the parking lot, I heard a loud blast of a horn and saw the man driving a Chevy roll down his window and display his middle finger to Nascar Kyle as the yellow muscle car cut him off.
"Ugh," I said, shaking my head.
Download


Copyright Disclaimer:
This site does not store any files on its server. We only index and link to content provided by other sites. Please contact the content providers to delete copyright contents if any and email us, we'll remove relevant links or contents immediately.