The Extreme Right: Freedom and Security at Risk by Aurel Braun
Author:Aurel Braun [Braun, Aurel] , Date: September 23, 2022 ,Views: 53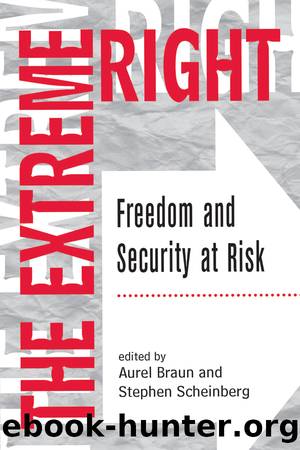 Author:Aurel Braun [Braun, Aurel]
Language: eng
Format: epub
Tags: Political Science, General
ISBN: 9780429976186
Google: bppLDwAAQBAJ
Goodreads: 38634127
Publisher: Routledge
Published: 2018-02-12T00:00:00+00:00



The Region
Although the transition from Marxism-Leninism appears—as in the case of Czechoslovakia 1989—the image of a "velvet revolution," the legacy of common ties and political experience over more than four decades, particularly when these experiences were so radically different from that of countries in Western Europe, is bound to have a profound regional impact on postcommunist development. It is certainly not my intention to argue that extremism in the postcommunist states is merely a legacy of the communist regimes. Extremism, particularly in its right-wing form, had a powerful hold in Eastern Europe as well as in czarist Russia before the imposition of communist regimes. And if one measures the length of communist rule in these states compared to their entire history, such rule, in most instances, represents but a relatively small portion of those histories. Yet this kind of quantitative contextualization of communist rule distorts its importance.
First, Marxist-Leninism is a totalizing political system. That is, it not only sought to control the political and economic heights in a country but engaged in a vast experiment in social engineering. That it ultimately failed does not mean that it did not, or could not, have a long-term impact. It sought to reach into every facet of every individual's life, it demanded total allegiance and faith, and it sought to achieve a radical break with the past. And though there were growing differences among the various communist states in the region, they shared crucial political, economic, and social features. These commonalities were reinforced by a web of bilateral and multilateral ties, including the Council for Mutual Economic Assistance (CMEA) and the Warsaw Pact.
Second, it is extremely important that the Marxist-Leninist system was in place in Eastern Europe and for most of the history of the Soviet Union while profound democratic changes were taking place elsewhere in the world. During the postwar period, when communist regimes were largely imposed in Eastern Europe and kept in power through the threat of force, the three principal axis powers, (Western) Germany, Japan, and Italy, became vibrant, successful democracies. Moreover, fascism collapsed in Spain and Portugal, as did the dictatorship of the colonels in Greece. The rest of Europe embraced democracy and markets. Eastern Europe and the Soviet Union were left out of an enormous process of democratization and, in the case of the former, a process of Europeanization.
Therefore, there is very little likelihood that these states could emerge unscathed. To use an imperfect but, I think, still useful analogy, psychologically abused children may not necessarily show the effects of their abuse, but as adults, will carry the scars. And if the problem is not recognized, the damage can be particularly dangerous to the well-being of the individual. This is why, I would contend, an examination of extremism, including right-wing extremism, in the region has to start with the impact of Marxist-Leninism.
First, I will look at the communist legacy and, second, closely tied with that, the development of a "victimized majority" mentality. Third, I will examine the problems
Download


Copyright Disclaimer:
This site does not store any files on its server. We only index and link to content provided by other sites. Please contact the content providers to delete copyright contents if any and email us, we'll remove relevant links or contents immediately.