The App by JP Sayle
Author:JP Sayle [Sayle, JP] , Date: February 14, 2020 ,Views: 105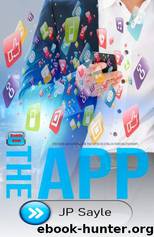 Author:JP Sayle [Sayle, JP]
Language: eng
Format: epub
Tags: novella
Publisher: JP Sayle
Published: 2019-12-06T16:00:00+00:00



Scott
The rollercoaster I was riding needed to fucking stop, right fucking now. I'd thought that there was nothing worse than Luke Mason stepping into the lift. I'd been wrong. First, the way he was acting was making my head spin as it tried to catch up with this new phenomenon. Then, when he'd uttered the word Daddy, my cock tried to fight its way out of my lacy underwear to show him how much it wanted a Daddy. And that was if you didn't take into account that the lift broke.
The well of panic that I was drowning in felt so deep until I found myself held so gently and rocked against a solid wall of muscle that smelt like heaven.
Then I heard Luke say, "Don't worry, Daddy is here. I'll take care of you and keep you safe," and my heart melted faster than ice in a drink on a hot summer's day. It smothered the overwhelming panic as I struggled to cope with all the emotions racing through me. So I did what I always do when I'm overwhelmed, I hid.
Sticking my wet face against Luke's neck, I inhaled his aftershave and let the scent block out everything. My senses swam from the masculinity of it. Nuzzling into the warm flesh, wanting to immerse myself, my body relaxed. The moment I let go the arms around me tightened and I was rewarded with a gentle kiss to the top of my head.
A flush rose up my face at how treasured I felt.
"Scott, look at me." Though the command was spoken softly, there was an element of authority that was undeniable and I wanted to obey.
Sucking in one last deep breath, I raised my head. Blinking the tears from my eyes, Luke's beautiful face filled my vision and left me breathless. "Yes…" I quivered with an urge to say more. But I wasn't sure I could, not when Luke and I had so much history.
He might be being kind to me now, but I'd been on the receiving end far too many times of his cutting words at work. The number of times he'd reduced me to tears were countless. I knew I shouldn't let him get to me and it took several months to figure out. It upset me because underneath it, I really wanted him to like me. Daft, I know, but there was something so compelling about him, I was drawn to him like a moth to a flame. Only I really didn't want to get burnt.
I had a feeling that was about to change. My mind had worked out the second Luke asked what room I was booked into, that I'd somehow ended up with a date with the one person I'd least expected: Luke Mason, my nemesis from work.
"Have you figured out who you're meeting today?" The simple inquiry held such weight, I wasn't sure how to respond. His eyes demanded I be honest, and also threatened something if I wasn't. The threat dried my mouth and I nodded for fear of not being able to get the words past my thick tongue.
Download


Copyright Disclaimer:
This site does not store any files on its server. We only index and link to content provided by other sites. Please contact the content providers to delete copyright contents if any and email us, we'll remove relevant links or contents immediately.