Scenes from Provincial Life by J. M. Coetzee
Author:J. M. Coetzee [Coetzee, J.M.] , Date: September 9, 2017 ,Views: 174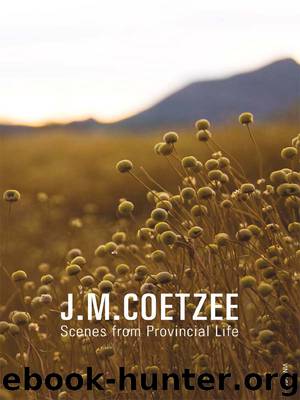 Author:J. M. Coetzee [Coetzee, J.M.]
Language: eng
Format: epub
Publisher: Random House Australia
Published: 2011-03-14T21:00:00+00:00



Fifteen
He must find ways to save money. Lodging is his single biggest expense. He advertises in the classified section of the Hampstead local paper: 'House-sitter available, responsible professional man, long or short term.' To the two callers who respond he gives IBM as his work address and hopes they will not check up. The impression he tries to create is of rigid propriety. The act works well enough for him to be engaged to look after a flat in Swiss Cottage for the month of June.
He will not, alas, have the flat to himself. The flat belongs to a divorced woman with a small daughter. While she is away in Greece, the child and the child's nanny will be in his care. His duties will be simple: to attend to the mail, pay the bills, be at hand in case of emergencies. He will have one room as his own, and access to the kitchen.
There is also an ex-husband in the picture. The ex-husband will appear on Sundays to take his daughter out. He is, as his employer or patroness puts it, 'a bit hot-tempered', and should not be allowed to 'get away with anything'. What exactly might the husband want to get away with, he inquires? Keeping the child overnight, he is told. Sniffing through the flat. Taking things. On no account, no matter what story he spins – she gives him a meaningful look – should he be allowed to take things.
So he begins to understand why he is needed. The nanny, who comes from Malawi, no great distance from South Africa, is perfectly capable of cleaning the flat, doing the shopping, feeding the child, walking her to and from kindergarten. She is perhaps even capable of paying the bills. What she is not capable of is standing up to the man who until recently was her employer and whom she still refers to as the master. The job he has let himself in for is in fact that of a guard, guarding the flat and its contents from the man who until recently used to live here.
On the first day of June he hires a taxi and moves, with his trunk and suitcase, from the seedy surroundings of Archway Road to the discreet elegance of Hampstead.
The flat is large and airy; sunlight streams in through the windows; there are soft white carpets, bookcases full of promising-looking books. It is quite unlike what he has seen thus far in London. He cannot believe his luck.
While he unpacks, the little girl, his new charge, stands at the door of his room watching his every movement. He has never had to look after a child before. Does he, because he is in a sense young, have a natural bond with children? Slowly, gently, wearing his most reassuring smile, he closes the door on her. After a moment she pushes it open and gravely continues to inspect him. My house, she seems to be saying. What are you doing in my house?
Her name is Fiona.
Download


Copyright Disclaimer:
This site does not store any files on its server. We only index and link to content provided by other sites. Please contact the content providers to delete copyright contents if any and email us, we'll remove relevant links or contents immediately.