Nature Heals by Alan Wolfelt
Author:Alan Wolfelt , Date: October 22, 2021 ,Views: 239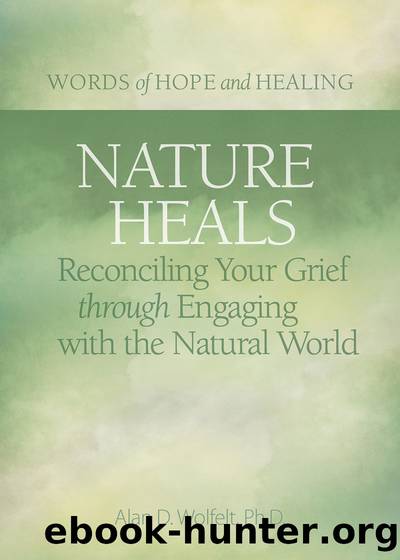 Author:Alan Wolfelt
Language: eng
Format: epub
Publisher: Companion Press
Published: 2021-10-15T00:00:00+00:00



GETTING OUT INTO NATURE
"Come forth into the light of things. Let nature be your teacher."
— William Wordsworth
There are lots of ways to get out into nature, and they all count. You don't have to hike to a cabin in the woods, climb Mount Everest, or sail to a remote island to consider yourself immersed in nature. A tiny courtyard with a tree and a few plants may be enough. So think simple, small, and nearby to start with, then go from there.
YOUR IMMEDIATE ENVIRONMENT
Step out your front door or onto your patio. Where are you? Are you within a few steps of shrubs, trees, plants, rocks, gardens, and grass or natural ground cover? Do you have a view to the sky? If so, you're already in nature. Regularly accessing the natural world right outside your home is the easiest way to add more nature time to your life.
I've noticed that some people don't tend to hang out in the outdoor spaces adjacent to their homes because they don't have a good spot to sit. If this applies to you, I'd encourage you to invest in a comfortable chair. Of course, it can be a lightweight folding chair if you need to carry it in and out. If it feels awkward sitting in the outdoor locations available to you, try bringing a book with you.
Another reason that many people today don't avail themselves of the nature right outside their homes is they have a hard time disconnecting from technology. If you're addicted to technology—and if you are, don't be ashamed; it's built into our world right now—I encourage you to make a pact with yourself to walk away from your phone, computer, tablet, and TV for five-minute intervals at least once each hour. You can set a reminder on your phone if you'd like. During those short breaks, simply stand and head outside. Spend a few minutes walking, gardening, meditating, or simply sitting and gazing.
If, on the other hand, the spaces outside your home have little flora and fauna and/or aren't conducive to sitting and relaxing, you may have to go farther afield for your daily nature fixes. The closest green space or park will work. Walk there and back if you're able for an extra health boost. I would be remiss if I didn't affirm that the outdoors is not equally accessible to everyone, however. While most cities have parks and open spaces, these green oases are not always sufficiently large, numerous, or well-distributed. Still, there is usually enough nature nearby for it to offer more of a benefit than you may realize.
And as you become more engaged with nature and feel its healing power in your life, you might even want to consider relocating to a living situation with better access to nature. Who knows—you may even be able to find a less-expensive home or apartment surrounded by lusher nature—a compelling and wise tradeoff.
Finally, if you have limited mobility, I understand that you may need accommodations or assistance getting out into nature.
Download


Copyright Disclaimer:
This site does not store any files on its server. We only index and link to content provided by other sites. Please contact the content providers to delete copyright contents if any and email us, we'll remove relevant links or contents immediately.