No Time to Say Goodbye
Author:Carla Fine [Fine, Carla] , Date: June 6, 2017 ,Views: 1562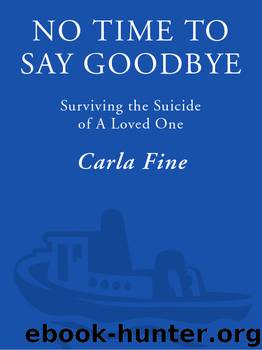 Author:Carla Fine [Fine, Carla]
Language: eng
Format: epub
ISBN: 978-0-307-78888-7
Publisher: Crown/Archetype
Published: 2011-05-10T16:00:00+00:00



Part Four
THE SURVIVAL
10
Beginning the Mourning
"A suicidal person is like a black hole of pain. You can
give and give but you just can't fill it up."
—Suicide support group leader
My father died when I was twenty-nine years old. It was my first experience with losing someone close to me, someone I loved very much. I had always dreaded his dying. He was the anchor in my life, my protector and ardent supporter. I was afraid that I would not be able to survive his loss, that I would somehow fall apart when he was no longer here.
My father's death was swift and dignified. A respected author and educator, he was a Pulitzer prize–winning journalist who had been education editor of The New York Times for twenty-three years. He was lecturing in Korea as the guest of the government when he suddenly suffered a fatal heart attack. He died, as he wanted, with his boots on, at the age of seventy-two.
My grief was immense. To my surprise, however, I did not break or even splinter. I mourned, I cried, I felt the first stirring of my own mortality. But I remained whole, a testament, I believed, to my father's legacy that life should be embraced, not merely endured.
Six months after my father's death, I began to experience excruciating pains in my chest. At first, I just assumed I was having sympathetic heart attack symptoms and dismissed any physical basis for my growing discomfort. Even as the episodes became more frequent and severe, I refused to go for medical attention. I was convinced that my problem was psychosomatic, a manifestation of the terrible grief I was feeling about my father's death.
One day, as I lay writhing on my living room floor, it passed through my mind that if I jumped out the window, my unbearable suffering would stop. I did not want to die, that I knew, I just wanted to put an end to the pain. The solution seemed so easy, so logical. I would do anything not to feel this way.
Needless to say, I did not go crashing through the window. Instead, trembling with fear, I took a taxi to the emergency room of the hospital where Harry was doing his internship. After a battery of tests, I was informed that my gallbladder was inflamed and I needed immediate surgery. The cause of my problem was neither dramatic nor romantic, just ordinary, mundane, pedestrian gallstones.
Memories of that last, terrible attack descended on me from out of nowhere as the second anniversary of Harry's suicide approached. I found myself reliving not only the suffocation of my crushing pain but also the feeling of violent urgency to do anything to stop it. Is this how Harry felt, I wondered. Was his pain, his psychic pain, so intractable that only self-murder could end it? Was it possible he really did not want to die but truly believed he had run out of options to extinguish his torment?
Primo Levi, the noted author and scholar who survived
Download


Copyright Disclaimer:
This site does not store any files on its server. We only index and link to content provided by other sites. Please contact the content providers to delete copyright contents if any and email us, we'll remove relevant links or contents immediately.