All Things New by John Eldredge
Author:John Eldredge , Date: December 27, 2017 ,Views: 1662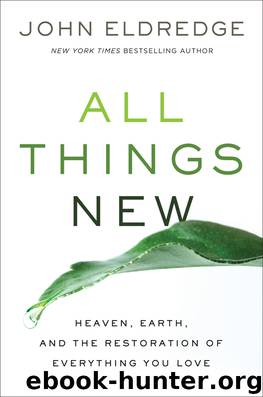 Author:John Eldredge
Language: eng
Format: epub
Publisher: Thomas Nelson
Published: 2017-08-16T04:00:00+00:00



REWARD
Now we are prepared to better understand Jesus. Let us return to that stunning passage with which we began our explorations of the palingenesia:
"Truly I tell you, at the renewal of all things, when the Son of Man sits on his glorious throne . . . everyone who has left houses or brothers or sisters or father or mother or wife or children or fields for my sake will receive a hundred times as much and will inherit eternal life." (Matthew 19:28–29)
Jesus was responding to a question when he declared these bold promises. The question came from Peter, though you get the feeling the other fellows put him up to it:
Then Peter said to him, "We've given up everything to follow you. What will we get?" (19:27 NLT)
Christ is neither alarmed nor offended by Peter's question. He doesn't tell him that service is enough, nor that virtue is its own reward. He quickly replies with the proclamation of the Great Renewal, and then—as though that were not enough (!)—goes on to assure the boys that they will be handsomely rewarded in the coming kingdom. A hundredfold. That's a pretty staggering return; perhaps Jesus is simply using hyperbole. But then there is his teaching on the minas and the talents:
"A man of noble birth went to a distant country to have himself appointed king and then to return. So he called ten of his servants and gave them ten minas. 'Put this money to work,' he said, 'until I come back.'
"But his subjects hated him and sent a delegation after him to say, 'We don't want this man to be our king.'
"He was made king, however, and returned home. Then he sent for the servants to whom he had given the money, in order to find out what they had gained with it.
"The first one came and said, 'Sir, your mina has earned ten more.'
"'Well done, my good servant!' his master replied. 'Because you have been trustworthy in a very small matter, take charge of ten cities.'
"The second came and said, 'Sir, your mina has earned five more.'
"His master answered, 'You take charge of five cities.'" (Luke 19:12–19)
The allegory is hardly veiled. Clearly, Jesus is the man of noble birth who left to have himself appointed king (which took place at his ascension) and will return. Upon his return, he rewards his faithful servants (that would be us, his followers). He repeats the promise but ups the ante in the tale of the sheep and goats: "Come, you who are blessed by my Father; take your inheritance, the kingdom prepared for you since the creation of the world" (Matthew 25:31–36). We've gone from houses to cities to kingdoms. We are given kingdoms. Which helps to make sense of why we are said to reign with him. More on that in a moment. For now, can you see the theme here? The victorious king gladly rewards his faithful companions.
It is a mind-set almost entirely lost to our age. Who even talks about
Download


Copyright Disclaimer:
This site does not store any files on its server. We only index and link to content provided by other sites. Please contact the content providers to delete copyright contents if any and email us, we'll remove relevant links or contents immediately.