The Holy Spirit by Billy Graham
Author:Billy Graham , Date: February 6, 2018 ,Views: 2248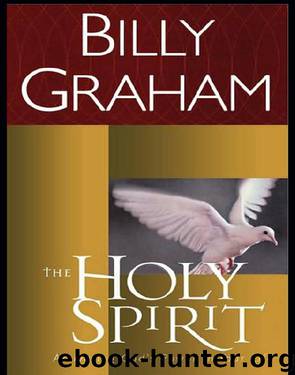 Author:Billy Graham
Language: eng
Format: epub
Tags: ebook, book
Publisher: Thomas Nelson Inc.
Published: 0101-01-01T00:00:00+00:00



10
SINS AGAINST THE HOLY SPIRIT
One of the most solemn themes in all Scripture concerns sins against the Third Person of the Trinity, the Holy Spirit. Believers and unbelievers alike can and do sin against Him. What is the nature of these sins, and how can we guard ourselves against committing them?
BLASPHEMING THE HOLY SPIRIT
Of all the sins men commit against the Holy Spirit, none is worse than that of blaspheming Him. The reason for this is clear: it is the one sin for which there is no forgiveness. All other sins against the Holy Spirit are committed by believers. We can repent of them, be forgiven, and make a new start.
Not so with blaspheming the Spirit. This sin is committed by unbelievers and is often called "the unpardonable sin." It was committed by the enemies of Jesus when they accused Him of casting out devils by the power of Satan after Jesus had clearly stated that they were cast out by the power of the "Spirit of God." He then continued: "Therefore I say to you, any sin and blasphemy shall be forgiven men, but blasphemy against the Spirit shall not be forgiven. And whoever shall speak a word against the Son of Man, it shall be forgiven him; but whoever shall speak against the Holy Spirit, it shall not be forgiven him, either in this age, or in the age to come" (Matt. 12:31–32).
When my father was a young man, he attended a revival meeting in North Carolina and became convinced through a sermon on this subject that he had committed the unpardonable sin.
And he lived with this awful thought for many years. He agonized over it, was frightened by it, and thought of himself as a doomed man who could never repent of his sin. In time he discovered that his sin was not one that excluded him from the mercy and grace of God. He came to know that the Holy Spirit would not be convicting and wrestling with him and drawing him to Christ if he had really committed this unpardonable sin.
Perhaps I can venture a definition of what I understand the unpardonable sin to be. It seems to me, negatively, that no one has committed this sin who continues to be under the disturbing, convicting, and drawing power of the Holy Spirit. So long as the Spirit strives with a person, he has not committed the unpardonable sin. But when a person has so resisted the Holy Spirit that He strives with him no more, then there is eternal danger. In other words, the unpardonable sin involves the total and irrevocable rejection of Jesus Christ.
I believe this is what Stephen was talking about in the sermon he preached just prior to his martyrdom. In that message he said, "You . . . who are stiff-necked . . . are always resisting the Holy Spirit" (Acts 7:51).
The context makes it clear that Stephen was saying, first of all, that just as their fathers had refused to
Download


Copyright Disclaimer:
This site does not store any files on its server. We only index and link to content provided by other sites. Please contact the content providers to delete copyright contents if any and email us, we'll remove relevant links or contents immediately.