Girl, Wash Your Face by Rachel Hollis
Author:Rachel Hollis , Date: March 16, 2018 ,Views: 2613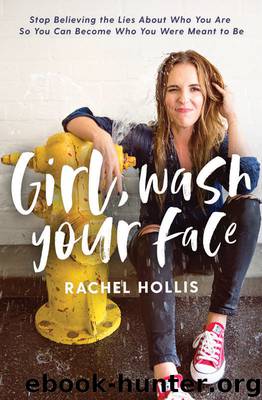 Author:Rachel Hollis
Language: eng
Format: epub
Publisher: Thomas Nelson
Published: 2017-12-07T05:00:00+00:00



CHAPTER 10
The Lie:
I SHOULD BE FURTHER ALONG BY NOW
Last week I sat around with a group of women enjoying a glass of wine and a chat. The women around me were all ages, came from different cities, and had various backgrounds. Some had families, some didn't, but all of them were what I would describe as successful. The topic of age came up and whether or not we liked to celebrate our birthdays and the passing of another year. The general consensus was definitely not.
This threw me for a loop.
I'm one of those people who loves her own birthday. I plan it months in advance and make long lists of things I want to do (wear sweatpants all day!) or what I want to eat (spinach artichoke dip with a funfetti cake for dessert!). I look forward to it with the same childlike glee as I did as a third grader. It's not just the actual celebration I like either; I wear each passing year with pride, and I truly don't care what age I am one way or another.
I know that women don't like growing older. That cliché has been around for as long as we've recorded history, I'm sure. But I had never really asked anyone why they felt that way. So I asked this group of ladies. I wanted to know what they disliked so much about growing older. The answer, at its core, was the same for every single person.
I expected some reference to looking older or even feeling older physically. I'd always assumed it had to do with lost youth, and maybe for certain people that's true. But this group's issue with passing time wasn't about what was happening.
They disliked growing older because of what wasn't happening.
You see, they'd all made plans. As little girls or adolescents or women in their early twenties, they'd made all sorts of them. Little plans and big plans and grandiose shoot-for-the-moon plans that they assumed would have been accomplished long before now. And while they had checked many things off their list, there were still those nagging few . . . the hanging chads of wishes and dreams that still hadn't come to fruition. So, for them, birthdays served as a reminder of all the things they hadn't achieved.
For some, they fell short of a career or financial goal. Others wanted to be married or have children. They had set themselves on some sort of course long ago, and each year they didn't reach that preconceived destination was a harsh reminder of the promises they were breaking to themselves.
Who hasn't fallen for this lie? I can't count the number of times in my life when I've beaten myself up because I thought my goals had expiration dates. (As a sidenote: What a downer attitude about a day that is supposed to be filled with buttercream icing!) But, ladies, we need to recognize that this mentality doesn't do any of us any good. We're focusing all of our attention on the absence of something.
Download


Copyright Disclaimer:
This site does not store any files on its server. We only index and link to content provided by other sites. Please contact the content providers to delete copyright contents if any and email us, we'll remove relevant links or contents immediately.