Bus on Jaffa Road by Mike Kelly
Author:Mike Kelly , Date: December 27, 2017 ,Views: 1633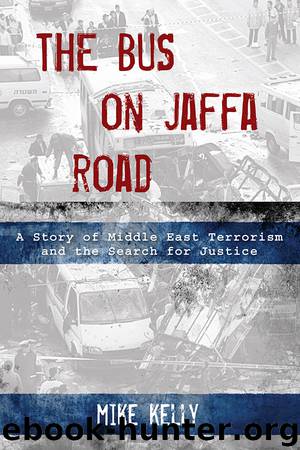 Author:Mike Kelly
Language: eng
Format: epub
Publisher: Lyons Press
Published: 2014-10-07T04:00:00+00:00



Six months after Hassan Salameh was captured, Len and Vicki Eisenfeld walked into the headquarters of the Federal Bureau of Investigation in Washington, DC. It was Tuesday, December 3, 1996. A month earlier, President Clinton had defeated his Republican challenger, Kansas Senator Robert Dole, and won a second term. The comfortable margin of ­victory—almost ten points over Dole—was not just an electoral triumph for Clinton. It was a none-too-subtle confirmation that he was able to fight off criticism, largely from conservatives, that he was not tough enough to crack down on the growing problem of international and domestic terrorism.
In the months since they had watched Clinton sign the Antiterrorism and Effective Death Penalty Act into law, the Eisenfelds and Arline Duker began to ponder how they might pursue a lawsuit. But as Vicki Eisenfeld first voiced in the days after she buried her son, how could either family file a lawsuit against Hamas? As both families quickly learned, Hamas was a shadowy organization, with few recognizable assets that could be claimed in a lawsuit. What about Iran, though?
Stephen Flatow was moving ahead with his own lawsuit, although he had still not filed court papers. While Flatow and his lawyer, Steven Perles, had managed to lobby Congress to strengthen the AEDPA, they still faced the problem of who could actually be targeted in a lawsuit.
It was hardly a small concern. Lawsuits cost money. Perles had already signaled that a major antiterrorism lawsuit, in a federal court and under the untested provisions of the AEDPA, might cost as much as $100,000 just to collect evidence from the Middle East and other sources and to hire expert witnesses. But without a clear target that could provide compensation to reimburse the families and the lawyers for their expenses, why move forward?
Not surprisingly, the Eisenfelds and Dukers each had different worries about what a lawsuit meant, though they shared a common bond in the deaths of Matt and Sara and the hopes both families nurtured for them. For the Dukers and Eisenfelds, that bond would become especially tight. The hoped-for wedding of Sara and Matt that would have formally joined both families would never take place, but in a tragic way both families were joined nonetheless.
After burying Matt and Sara, Len had gathered Vicki and Amy along with Arline and her two remaining daughters and declared that he hoped the two families would remain united.
"We used to be a family of four," Len said. "Now we are a family of six."
In contemplating a lawsuit, however, one of Arline's primary concerns was money. As a single mother, she still had two daughters to put through college. She had some savings. But a lawsuit to pursue an international terrorist organization could drain them. In the end, what would she win? A judgment that merely blamed Hamas for the bombing that killed Sara and Matt offered little satisfaction. Hamas had already admitted that its operatives were involved in the bomb plot.
Vicki and Len shared similar concerns. Would a
Download


Copyright Disclaimer:
This site does not store any files on its server. We only index and link to content provided by other sites. Please contact the content providers to delete copyright contents if any and email us, we'll remove relevant links or contents immediately.