No Ashes in the Fire by Darnell L Moore
Author:Darnell L Moore , Date: May 29, 2018 ,Views: 1841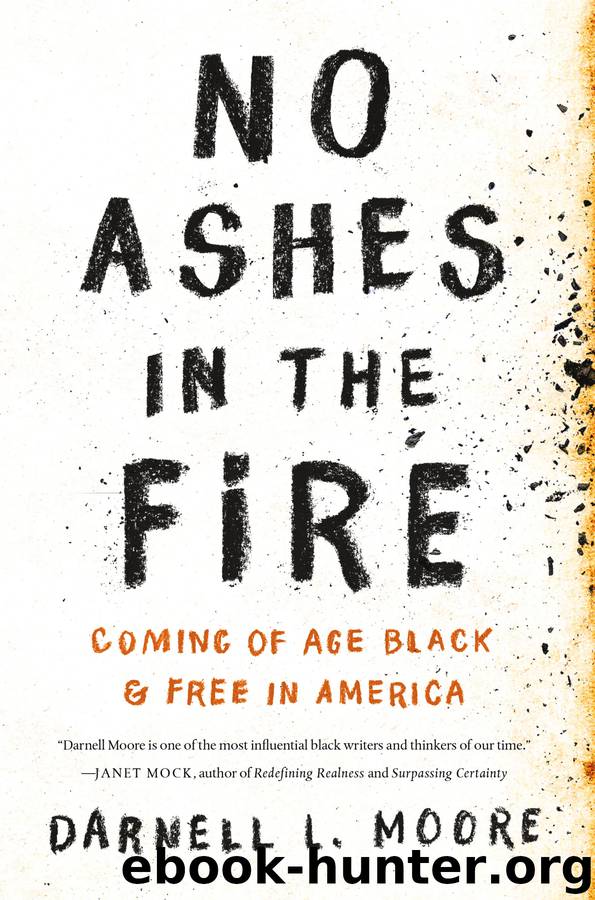 Author:Darnell L Moore
Language: eng
Format: epub
Publisher: PublicAffairs
Published: 2018-05-29T04:00:00+00:00



SETON HALL UNIVERSITY IS in South Orange, a short hour and a half drive from Camden, but it was far enough away from home for me to stumble into new experiences and fail outside the watchful gaze of those I feared shaming. It was also close enough to New York City. I had been to New York City only one other time in my life. I was sixteen when I traveled to the Statue of Liberty and the fabled Mamma Leone's restaurant, a once-popular eatery in Manhattan's Theater District. It was a trip organized by the summer youth entrepreneurship-training program Camden public schools offered in the 1990s. As I prepared to move onto campus, I held fast to my hopes of returning to the place big enough where the hyper-visible could be unseen, a place so worldly one could sin over and over again without the condemning stares that tend to be cast upon anyone who chooses to live as they will. The skyscrapers and packed streets, the people who appeared to be raptured by wanderlust, those seeking to be discovered and those who walked about as if they did not want to be found, drew me in. I would one day roam those same streets, but until then the gated campus of Seton Hall would have to do.
We arrived in Newark, New Jersey, in the early afternoon of move-in day with bags full of my belongings. It was a humid early summer day in '94. The sounds of overworked commuters, train announcements, and incoming public buses filled the air. Aunt Barbara and I searched for signs leading us in the direction of the number 31 bus. We'd already been traveling for two hours, on the bus in Camden and on the train to Newark. Unlike others traveling to campus to begin a summer academic enrichment session meant to prepare students accepted through the Equal Opportunity Program (EOP), my family did not own a car. It was the second time I realized that our family lacked wealth. The first time, I was walking onto the campus of Mullica Hill Friends School, another microcosmic world where white middle-class and upwardly mobile black people sent their kids.
I was no stranger to long commutes, but the commute to Seton Hall made me more anxious than ever. I was moving away from Camden for the first time to a part of New Jersey I never imagined existed. Newark is a black city like Camden, but its spirit is animated, improvisational, and alive like jazz. The familiar tunes of Biggie Smalls and Craig Mack weren't as dominant as the house music blazing from the speakers on vendors' tables on Broad and Market Streets, where mix tapes with strange house beats like the "Percolator" and "Witch Doctor" were sold. Newark was a different world, a different hood, where people talked with a different tongue. The sound of the "r" was stronger, harder, as it rolled out of the mouths of the bold, hopeful, and aware black
Download


Copyright Disclaimer:
This site does not store any files on its server. We only index and link to content provided by other sites. Please contact the content providers to delete copyright contents if any and email us, we'll remove relevant links or contents immediately.