Naked (The Blackstone Affair Part 1) by Raine Miller
Author:Raine Miller , Date: September 11, 2017 ,Views: 4118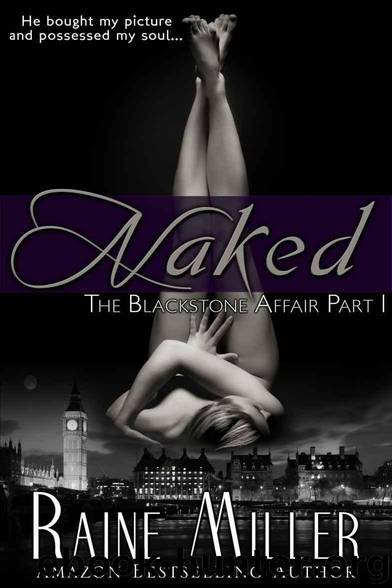 Author:Raine Miller
Language: eng
Format: mobi, epub
Publisher: Raine Miller Romance
Published: 2012-08-17T07:00:00+00:00



8
Dr. Roswell always writes in a notebook during our sessions. It seems very old-school to me, but then this is England and her office is in a building that was standing when Thomas Jefferson wrote the Declaration of Independence back in Philadelphia. She uses a fountain pen too, which impresses the holy hell out of me.
I watched her very beautiful turquoise and gold fountain pen scratch words into her notebook as she listened to me talk about Ethan. Dr. Roswell is a great listener. In fact, it's pretty much the gist of what she does. I don't know what our sessions would consist of if I didn't tell her stuff she could listen to.
Sitting behind her elegant French desk table, she was the picture of professionalism and genuine interest. I'd guess her to be in her early fifties with beautiful skin and white hair that did not age her one bit. She always wore unique jewelry and bohemian outfits that made her look cultured and approachable. My dad had helped me find her when I'd first moved to London. Dr. Roswell was on my necessities list along with food, clothing and shelter.
"So why do you think you reacted by leaving Ethan in the middle of the night?"
"I was afraid of him seeing me like that."
"But he did." She wrote something in her book. "And from what you've told me, he wanted to comfort you and for you to stay."
"I know, and it scared me. For him to want me to tell him why I have the dreams…" And this was my biggest problem. Dr. Roswell and I've discussed it many, many times. What would any man think of me once they knew? "He asked me if I wanted to talk about it. I told him no. He's so—so—intense; I know it will be a matter of days probably before he pushes for more."
"A relationship is like that, Brynne. You share and help the other person know about you, even the frightening parts."
"Ethan is not like that though. He's so demanding all the time. He wants…everything from me."
"And how does that make you feel when he demands things or wants you to give him everything?"
"Terrified of what will become of me—Brynne." I took a deep breath and said the words. "But when I'm with him, when he touches me or when we're…intimate…I feel so safe and cherished, like nothing bad will happen to me with him. For whatever reason, I trust him, Dr. Roswell."
"Do you think starting a sexual relationship with Ethan is the reason your nightmares have resurfaced?"
"Yes." My voice came out tremulous and I hated the sound of it.
"Brynne, that's a very normal thing for abuse survivors. The intimate act of sex is vulnerable for a woman by its nature. The female accepts the male inside of her body. He's stronger and typically more dominant. A woman has to have trust in her partner or I imagine there would be miniscule few of us having any sex at all. Add that to your history and you have a very stirring mix brewing inside your subconscious.
Download


Copyright Disclaimer:
This site does not store any files on its server. We only index and link to content provided by other sites. Please contact the content providers to delete copyright contents if any and email us, we'll remove relevant links or contents immediately.