Far and Away: A Prize Every Time by Neil Peart
Author:Neil Peart [Peart, Neil] , Date: February 2, 2018 ,Views: 998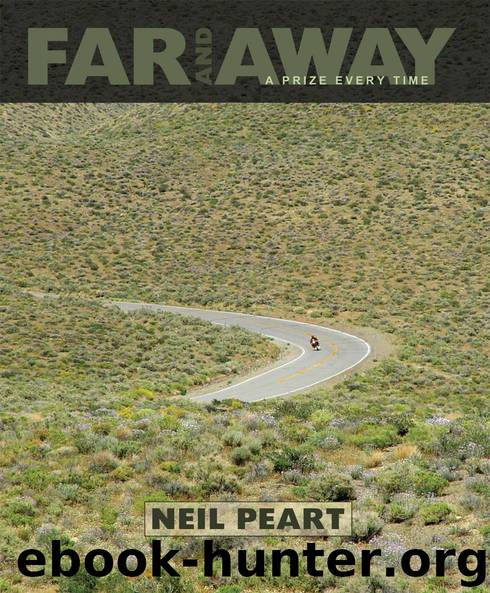 Author:Neil Peart [Peart, Neil]
Language: eng
Format: epub, mobi, azw
Publisher: ECW Press
Published: 2011-04-30T23:00:00+00:00



In principle, those Hydro-Québec power lines are like the aqueducts in the American West, which also slice for hundreds of miles across uninhabited wilderness, deserts, and even mountains. But water is, by nature, prettier than metal towers. In the same way that a significant amount of water in those aqueducts is lost to evaporation, so the hydro lines suffer leakage, too. The old-time fear that the electro-magnetic energy they radiate caused brain tumors in people who lived under them has been discredited, but still, I once stood beneath those Hydro-Québec power lines during an icy rain, and heard the wires crackling and buzzing, like static electricity.
Charles and I emerged from the woods into the cleared area under the towers, the snow solid white across the bare, heaving landscape—a shroud laid across a skeleton. We climbed a steep, high ridge, hoping to get a view of Satan's Tower, but saw nothing but bare trees all around. We paused in the open sunshine to drink some water and share the goodies in our packs (including some delicious nuts roasted in curry powder, sent by Marthe, an artist in the kitchen as well as on canvas).
The hydro-line corridor had long been a popular snowmobile and ATV route, which seemed a suitable match, and as a motorcyclist myself, I could hardly resent these recreational "cousins"—as long as they weren't ruining my cross-country ski trails. As Charles and I stood in the sun, contemplating our next move, we heard the buzz of engines in the distance, quickly drawing nearer, and louder. Three snowmobiles crested the ridge and headed north in a steady, metallic snarl, and after they passed, their exhaust smell hung in the thin winter air for a long time.
Download


Copyright Disclaimer:
This site does not store any files on its server. We only index and link to content provided by other sites. Please contact the content providers to delete copyright contents if any and email us, we'll remove relevant links or contents immediately.