Brave by Rose McGowan
Author:Rose McGowan , Date: January 31, 2018 ,Views: 1980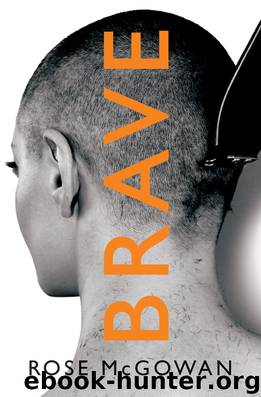 Author:Rose McGowan
Language: eng
Format: epub
Publisher: HarperCollinsPublishers
Published: 2017-12-12T05:00:00+00:00



THE PREMIERE
After two hours of being turned into a plastic doll-like version of myself, I get driven in a very cold air-conditioned car to the red carpet. As I get closer, I can hear the people on the sidewalk screaming. My stress level is going through the roof. My hands shake, my legs shake. I know I'm going to participate in a massacre of sorts by opening myself up to being bullied on a global level. That's really what it translates to. It's not so much, "Oh, let's go celebrate the opening of this project that I worked on," but more about getting savaged by trolls online for daring to exist.
I know that whatever photos are taken of me today will be on stupid gossip sites and magazines. They're going to say nasty things about me on all the message boards. I know this is going to happen, but here I am anyway. Getting ready to pose. I feel nauseated. I hate this.
I step out of the car and smile, a ridiculous expression on my face that in photographs reads strangely; sometimes I'd even laugh out of sheer hysteria. I have to wait with my publicist to signal me for my turn to walk the gauntlet, aka the red carpet. The celebrities having their photos taken are staggered so you're not in front of the cameras at the same time. I'm shaking harder now because of the yelling and noise, and I can feel my knee twitching and bouncing underneath my uncomfortable gown. It's now my turn. In little mincing steps—my stupid high heels are already killing my feet, my fake eyelashes are heavy every time I blink, and with voluminous hair that's puffed out to God knows where—I make my way to the first photographer. It's usually anywhere from ten to a hundred photographers, mostly men, screaming, raging, yelling your name as loud as they can to get attention, my body absorbing their yelling as aggression. Mince mince mince, three steps down, stop, hand on hip, smile, flash, repeat. The photographers yelling "Over the shoulder, over the shoulder!" because that way they can get both my ass and my face in the shot. I do what I'm asked to do and turn. There, now you have my ass, too; I've done my "job." This part of my job entails being a piece of meat to be consumed and savaged and judged. Fun times.
Now I've successfully made it to the end of the photographers' line and I move on to TV press like Entertainment Tonight or Extra, shows that glorify banality. Their cameras pan up and down my body. They ask me to turn around, and once again, like the good brainwashed girl I am, I oblige. I do a slow twirl, feeling ridiculous, not knowing I could've said no.
Hollywood thinks this is normal—they started it—but it's not normal; they've just spread this diseased idea of beauty to the world. And I am a part of that disease.
On the big screen, I see my name, I see my face moving, and all I can concentrate on is my teeth.
Download


Copyright Disclaimer:
This site does not store any files on its server. We only index and link to content provided by other sites. Please contact the content providers to delete copyright contents if any and email us, we'll remove relevant links or contents immediately.