Hailey's Truth (Book Three In the Bodyguards of L.A. County Series by Cate Beauman
Author:Cate Beauman [Beauman, Cate] , Date: October 29, 2022 ,Views: 94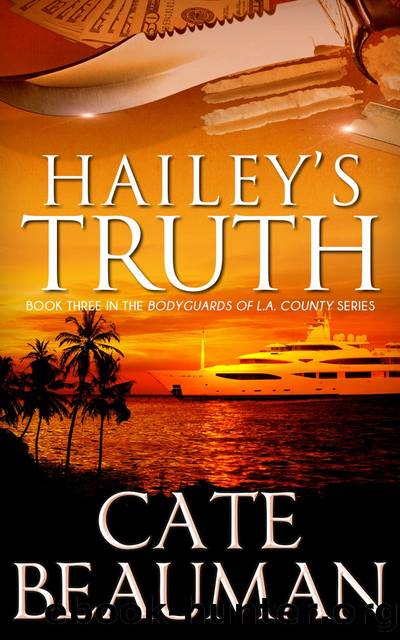 Author:Cate Beauman [Beauman, Cate]
Language: eng
Format: epub
ISBN: 9780989569620
Publisher: Cate Beauman



Chapter 16
Hailey pulled a wisp of hair from her updo and twisted it around her curling iron. She counted to five, then released it as she scrutinized herself in the mirror. Not bad for eleven minutes. She'd played up her eyes, making them appear huge with a trick of eyeliner and a few sweeps of mascara. She grabbed the clear gloss from the counter and applied a slippery coat to her lips, studying herself a moment longer before she hurried to the bedroom to slip on her backless white sandals.
"Note, note, note," she whispered as she scrambled to find a piece of paper and pen to let Austin know where she was going. Texting or calling was better, but she didn't want to bother him at work. "Here we go," she said as she wrote her brief message and signed her name.
A knock sounded at the door. "Hailey, it's me."
"Hold on," she hollered to her brother, grabbing a wrap from the closet. She opened the door, beaming at him. He was so clean-cut and handsome, dressed in dark gray slacks and a white collared shirt. "You look amazing."
Grinning, he pulled a tropical bloom from behind his back, handing it to her. "So do you."
"Aww." She pressed her hand to her heart, touched by his sweetness as she took the only flower he'd ever given her. "Thank you. It's beautiful." She hurried to the bathroom, sliding the blossom in her hair. The delicate white petals perfectly complemented the pale purple of her sleeveless sundress. "I think that will do," she said as she wandered back to the bedroom.
Jeremy smiled. "Awesome. Are you ready?"
"Yeah. Let me hang this note for Austin; then, we can go." She secured the white sheet to the door and locked up. Smiling, she looked at her brother. "I'm really looking forward to this."
"Me, too." He held out his arm.
She looped hers through his as they headed down the steps. "So, where are we eating?"
"It's a surprise." He steered her away from the hotel path and kept going toward the water. As they approached the dock, she noticed that the man who usually stood close by was gone. Frowning, she peered over her shoulder. Where did he go? He was always there—day or night.
Jeremy followed her gaze. "What's wrong?"
She shook her head. "Nothing."
"Are you sure?"
She nodded. "Absolutely."
They stepped onto the dock, and her frown returned. "What are we doing, Jeremy?"
"Just trust me."
That wasn't necessarily easy, but she was trying. "Okay."
As they walked closer to the water, she spotted the powerboat docked to the wood post. "What—"
"Trust me, Hailey. You love the water, right?"
"Yes, of course. You know that."
"Exactly."
In the dark, she could just make out the form of a man standing at the driver's seat and stifled a gasp. It was him—the man who always watched.
"Hailey, this is Desi. Desi, my sister Hailey."
"Hello, Hailey." The large, muscular man sent her a polite nod as he spoke in a thick Spanish accent.
She wanted to take a step back—to tell Jeremy she'd changed her mind.
Download


Copyright Disclaimer:
This site does not store any files on its server. We only index and link to content provided by other sites. Please contact the content providers to delete copyright contents if any and email us, we'll remove relevant links or contents immediately.