Trusting Cassidy by Susan Stoker
Author:Susan Stoker [Stoker, Susan] , Date: November 25, 2021 ,Views: 65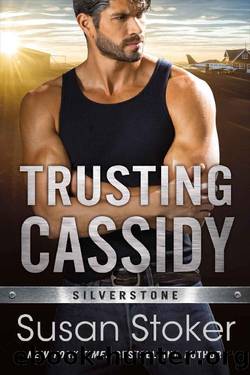 Author:Susan Stoker [Stoker, Susan]
Language: eng
Format: epub
Publisher: Montlake
Published: 2021-11-16T05:00:00+00:00



Chapter Twelve
A week after enrolling Mario in his new cheerleading class, Gramps stood in the hallway in the basement at Silverstone Towing and watched Cassidy for a long moment. She was busy entertaining a little girl named Betty and watching Taylor's boy, Kevin.
He'd talked to the guys, and they were fully supportive of his plan. He had been going to talk to her about it later, but he couldn't wait even a moment longer.
"Hey, Cass, can I talk to you for a sec?"
She looked up—and he immediately regretted not waiting. She looked worried, as if whatever he wanted to talk to her about was something bad.
There were days when she seemed to be settling into her new life without any issues, but other times, like now, a simple comment seemed to throw her right back to how she'd felt while living in Michael Coke's house. Worried that she'd said or done something wrong . . . and that at any time, she and her son could suffer the consequences.
He tried not to take it personally. It would take her a while to shake off the automatic reaction to someone taking her by surprise.
"Nothing's wrong," he said quickly.
He saw her shoulders relax a fraction as she nodded.
Molly came down the stairs and smiled at Cassidy. "Hey, girl." She gave her a quick hug. "Gramps asked if I wouldn't mind watching these two angels while you guys talk."
Betty, one of their employees' kids, who was around three or four—Gramps couldn't remember—jumped up from the floor where she'd been playing with Cassidy and hugged Molly. Kevin was asleep on a blanket on the floor, oblivious to the goings-on around him.
"Um . . . okay, sure. No problem," Cassidy said.
Gramps hated seeing her so uncertain. He pulled her close and speared his hands into her hair, tilting her head up so she had no choice but to look at him. "Nothing's wrong," he repeated.
"Okay."
"Shit," Gramps said, knowing she wasn't going to feel better until she heard his proposal. "Thanks for looking after the kids for a second," he told Molly, then towed Cassidy toward the safe room.
He opened the door with his fingerprint and pulled Cass into the room behind him. Bull, Eagle, and Smoke were still sitting at the table where he'd left them a minute or so ago to go get Cassidy. The three men all stood when they entered.
"What's wrong?" Bull asked.
"Is Kevin okay?" Eagle questioned.
"Molly's all right, yeah?" Smoke asked.
Gramps couldn't help but smile. His friends had most definitely changed. In the past, they would've been more worried about who their next target might be and where their mission might take them. Now they were almost exclusively focused on their wives . . . which was exactly how it should be. It was certainly how he felt.
"Everything's fine," Gramps said as he led Cassidy over to a chair.
"Then why does Cassidy look so worried?" Eagle asked.
"I'm guessing because every time someone in that fucking house in Jamaica said they needed to talk to her, it wasn't good," Gramps explained.
Download


Copyright Disclaimer:
This site does not store any files on its server. We only index and link to content provided by other sites. Please contact the content providers to delete copyright contents if any and email us, we'll remove relevant links or contents immediately.